Dragon Tattoo Sequels Would Shoot Back-To-Back, Says Fincher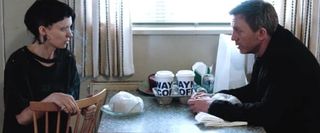 Given that it's based on just the first book of a globally best-selling trilogy, it's no spoiler to say that The Girl With The Dragon Tattoo leaves room for two sequels-- and it doesn't take much speculation to assume that, if this one turns out well, Sony will be eager to get the second two going. Stars Daniel Craig and Rooney Mara are both on record saying they plan to continue with the franchise if it moves forward, and though director David Fincher isn't yet signed on to direct the second two, he has a good explanation for that-- and at today's press conference for the film, laid out his plans for how he would tackle the second two films. Check out what Fincher had to say below.
Mara, also onstage, then interrupted him to say "Please don't." Fincher laughed and continued:
If you haven't read the books, the second and third books really are the same story, expanding the relatively limited scope of Dragon Tattoo and exploring massive conspiracies and scandals within the Swedish government. Lisbeth and Mikael are both back, though, and the story digs much deeper into Lisbeth's background, which is merely hinted at in the first book and movie. While Dragon Tattoo is a fairly self-contained story, the second two books-- The Girl Who Played With Fire and The Girl Who Kicked The Hornet's Nest-- focus on a lot of the same characters and locations, so shooting them together would only be logical, as the always-practical Fincher surely knows.
Later on I sat down with the screenwriter Steven Zaillian for a one-on-one interview, and while we talked a lot about the changes between the books and the movie, he did mention one detail about the potential second film-- which he is set to write. Zaillian and Fincher both freely admitted they felt comfortable excising a lot of things from the books, so I asked Zaillian if he would include what I see as an unnecessary prologue in the second book, which finds Lisbeth Salander hiding out on an island in the Caribbean. He wouldn't say for sure, but told me he would "probably not" include it, seeming to agree with me that it was superfluous.
I'll have much more form my Dragon Tattoo interviews, including a conversation with Rooney Mara, running in the next two weeks. The movie opens this Tuesday, December 29.
Your Daily Blend of Entertainment News
Staff Writer at CinemaBlend