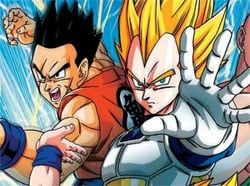 It looks like the long awaited live-action Dragonball movie may be in trouble. CS reports that 20th Century Fox has bumped the movie's release date from August 15th of this year, all the way back to April 3, 2009. Thank you Fox, for giving me more time to build my Dragonball proof bunker.
No reason is given for the bump, but the fact that it's being moved off a solid late-summer release date to a nowheresville release in April probably doesn't bode well if you're a fan of the whole Dragonball Z thing. It's old date had it up against Ben Stiller's Tropic Thunder, the animated Star Wars: Clone Wars movie, and an Emma Roberts kids movie called Wild Child. Now it's up against absolutely nothing… at least for the time being. It's more than a year off, so I'm sure at some point something else will be schedule to open opposite. I doubt anyone will be scared off by Dragonball, no matter how much rabid, niche fan support it seems to have.
The movie is based on the manga turned awful anime series Dragonball Z, and stars Justin Chatwin, James Marsters, Emmy Rossum, Ernie Hudson, and a bunch of other people you've never heard of decked out in plasticky anime hair.
Your Daily Blend of Entertainment News