Duke Nukem Movie May Be Next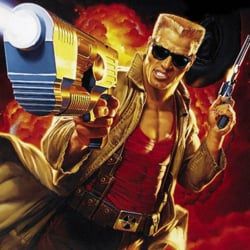 Max Payne may be the most popular video game gunshooter to step out of your Xbox right now, but he won't be alone for long. Scott Faye, a producer of Max Payne, told Kotaku.com that he's already hard at work at bringing Duke Nukem to the big screen as well.
"I'm working diligently at making a Duke Nukem movie scenario that will live up to the character and its import in the videogame world," said the producer, who is already working with Nukem and Payne developer Scott Miller. "As is the case with all of my game adaptations, I'd rather not make the movie than make a poor adaptation."
Faye also has a lot of development in mind for the character, which is pretty necessary when you're moving from a video game to an actual movie, with an actual story. ""We're expanding Duke's 'storyverse' in a very significant major way without abandoning or negating any element that's being used to introduce Duke to the next gen platforms."
Read the rest of the Kotaku story for Faye's plans for an Alice video game adaptation, as well as some thoughts on Max Payne, including the possibility of a sequel.
Your Daily Blend of Entertainment News
Staff Writer at CinemaBlend