Dumb & Dumber To Comes Back To Life At Universal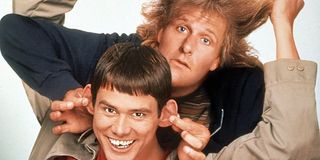 We live in a time when dream projects talked up by various stars for years actually, somehow become a reality. A new season of Arrested Development currently exists. A Veronica Mars movie has started production. A new trailer just dropped for Anchorman 2, a movie that at one point had been completely killed by its studio.
So even though we spent years shrugging off the Farrelly Brothers' suggestions that they wanted to make an honest-to-God Dumb & Dumber sequel, we really should have expected it when it started to become real. But, like Anchorman 2 before it, Dumb & Dumber To had some major hurdles to get past, from Jim Carrey bailing to, most recently, the studio dropping it. Even when that last blow fell it seemed obvious that the film could come back to life, and now, the indefatigable Harry and Lloyd have risen again. According to Peter and Bobby Farrelly themselves, via Twitter, Universal Pictures has come to their rescue:
The Red Granite Pictures in question is a relatively new outfit that has already been behind several starry productions, including the indie comedy Friends With Kids and the upcoming Out of the Furnace, which stars Christian Bale and Casey Affleck. They're also responsible for Martin Scorsese's completely insane-looking The Wolf of Wall Street, which ought to be enough proof that the Red Granite people have good case. Of course, the Dumb & Dumber sequel is likely to be entirely about bad taste, reuniting Jim Carrey and Jeff Daniels to act as stupid as possible, and convincing millions of otherwise reasonable people to laugh anyway. I had thought for a while that Dumb & Dumber was the kind of thing people my age liked because we were all kids in 1994 and it was right up our alley. Turns out, it really holds up. The Farrelly Brothers at their best really do know how to make people laugh at the best nonsense.
Rumor had it nearly a year ago that the film would follow Harry and Lloyd on yet another adventure, this time trying to hunt down one of their children who's in need of a kidney. But don't worry-- even though it's 20 years later, "There is no growth out of either one of them." With the wheels on this thing finally, officially moving, we will likely be seeing some casting and a whole lot of other details emerging shortly. It's hard to believe, but Dumb & Dumber To is really going to happen. At least, until the next stumbling block totally destroys it again. One or the other.
Staff Writer at CinemaBlend
Your Daily Blend of Entertainment News
Thank you for signing up to CinemaBlend. You will receive a verification email shortly.
There was a problem. Please refresh the page and try again.