Dustin Hoffman And Jack Nicholson Will Take The Stage At The Oscars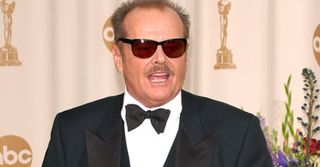 For a few years Jack Nicholson was as big a part of the Oscars as the orchestra playing over long acceptance speeches and awkward musical numbers. The three-time Oscar winner would always sit in the front row, sunglasses and big grin prominently on display, and enjoy more reaction shots than anybody else in the audience by far. He hasn't attended in recent years-- or at least not as visibly as he has in the past-- and now the show has wooed him back by not just giving him a front-row seat, but a spot on the stage.
No, they didn't find a way to nominate him for The Bucket List. Nicholson, along with his fellow 70s icon Dustin Hoffman, has been added to the long list of presenters for Sunday's show, which of course will be hosted by Seth MacFarlane. Producers Craig Zadan and Neil Meron aren't revealing what role Nicholson and Hoffman will play in the production, but they bragged about how the two "complete a list of presenters and performers that truly represents that great breadth and depth of acting talent in film today." Given that both Nicholson and Hoffman have won Best Actor in the past, I wonder if they might be part of a group paying tribute to the nominees in that category, the way the Oscars have in years past. But Hoffman and Nicholson are both huge, huge stars-- if they're presenting, they're likely gonna get singled out.
If you need a guide to all the big names that have been confirmed as Oscar presenters and performers, Vulture has rounded them up for you. And of course, for live coverage of the Oscars and all the madness that comes with them, check back here on Sunday for much, much more where all this came from.
(Jack Nicholson image via Featureflash (opens in new tab) / Shutterstock.com (opens in new tab))
Your Daily Blend of Entertainment News
Staff Writer at CinemaBlend