E.T. Writer Adapting Roald Dahl's The BFG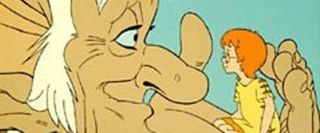 Chances are that as a kid you read the magical stories spun by the legendary Roald Dahl, and even if you didn't read his books, you've for sure seen some movies adapted from his work--James and the Giant Peach, The Fantastic Mr. Fox, and most famously Charlie and the Chocolate Factory just to name a few. Now, another of his classic tales, The BFG (Big Friendly Giant), is being adapted by none other than E.T. scribe Melissa Mathison, says The Wrap.
Absent from the comings and goings of the film world for quite some time, Mathison's last writing project was Kundun way back in 1997. With any luck Mathison will be able to translate some of the magic she created with E.T. nearly 30 years ago, but with Dahl's whimsical style, it shouldn't be a huge stretch for her to bring his world to life.
The film will be produced at DreamWorks under the guidance of veteran producers Kathleen Kennedy and Frank Marshall. The pair have worked together many times before including on the latest Miyazaki piece Ponyo, for which Mathison served as storyline consultant for the release of the English language dubbing of the film. Their presence will be huge in getting The BFG everything it needs to find its way to the big screen, I mean, Marshall produced the Indiana Jones movies. That earns you some pull.
DreamWorks is coming off the hugely successful Emma Stone vehicle The Help and is looking to use that to start off a string of successes. There's no indication of when DreamWorks wants The BFG ready, but not doubt they'll be looking to get it out quickly so expect some more news on this soon after the script gets wrapped up.
Your Daily Blend of Entertainment News