Edgar Wright Commits To Genre-Mashing Baby Driver As His Next Film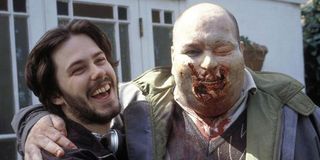 Edgar Wright is finally rebounding from the Ant-Man fiasco, getting back on the horse and making a new movie. His last, The World's End, was a summer tonic in 2013, but Ant-Man has made fans feel like it's been ages since we've seen a new Wright film. Fortunately, he's resurrecting an old project and reuniting with some old friends.
Deadline reports that Edgar Wright is reuniting with Working Title Films for Baby Driver. We heard about this project years ago as something Wright would tackle after completing the Cornetto trilogy that included Shaun Of The Dead, Hot Fuzz and The World's End. Deadline describes the mystery project as "a collision of crime, action, music and sound" and claims Simon Pegg and Nick Frost are not currently involved, but, come on, they totally will be. For that matter, you can bet your sweet ass Bill Nighy will show up as well.
So, what is this? We have a title, a director and a vague description that makes it sound a lot like all of Wright's films. Knowing his many inspirations, it's fun to speculate that he won't be mocking a genre but actually partaking in it – "laughs" seem to be missing from Deadline's synopsis. Maybe it's something more fantastical, in the vein of one of Wright's favorites, the obscure cop movie Super Fuzz – watching that film today definitely gives you an idea as to Wright's inspirations.
There's bound to be a little backlash to this move, just as Kevin Feige and the gang are ready to take the Comic Con stage to plug Ant-Man. Not only did Wright abandon a Marvel property that fans were itching to see, but he bailed on a big studio film to simply retreat to Working Title Films, his home, and a place with his biggest boosters, ones with which he won't clash. If Baby Driver isn't any good, the whole situation will have the whiff of Kevin Smith about it: a small-budget genre favorite who couldn't hack it with the studios and bailed on much bigger mainstream entertainments to recycle the same material to diminished returns.
Of course, not only is Wright a completely legit, talented filmmaker, but he already played the studio game with Scott Pilgrim vs the World, which was made at Universal with a considerable budget, only to be tossed to the wolves with a summer release. But it would be a disappointment if Marvel spooked him from returning to the States' studio system, causing him to instead make increasingly quaint Working Title films featuring his day players. Maybe instead of showing clips and making fun of Bad Boys 2 in a movie, he could be making Bad Boys 3. Just a thought.
Your Daily Blend of Entertainment News
Thank you for signing up to CinemaBlend. You will receive a verification email shortly.
There was a problem. Please refresh the page and try again.