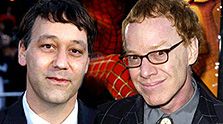 Everyone's been abuzz about Spiderman 3's various potential villains but there's another dark side to the film: the rift between director Sam Raimi and score composer Danny Elfman.
Elfman created the fantastic scores for the first two Spidey flicks but in a recent interview with CHUD.com, Danny divulged that he has about as much love for Raimi as Spiderman does for Venom.
"Spider-Man 2 was a miserable experience", said Elfman. "My connection to Sam got completely severed. As far as I'm concerned, he went to sleep and somebody put a pod next to him and when he awoke, he wasn't the same person I've known for a decade."
Elfman continued to say very clearly that he would never work with the director again, saying that Raimi has become his least favorite director to work with. "It's the first time I've ever walked from a director in twenty years, and hopefully the last time. He became intolerable. I've been on some heavy duty films, so to say that it had to be pretty bad. I have been in war zones you wouldn't believe in 55 films. But this is the first time I've said, I've had it. It's just not worth it. I would rather go back to waiting tables than to do Spider-Man 2 again." Ouch.
So, who will take the incomparable Elfman's place for the third Spiderman film? That's yet to be determined, but Elfman won't be hurt for work. His latest project Charlotte's Web is in post-production and his fantastic composition skills are always in demand.
Your Daily Blend of Entertainment News