Elizabeth Banks Goes From Porno To Bush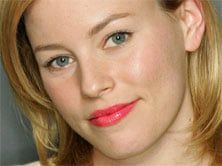 Elizabeth Banks has just finished shooting porn for Kevin Smith in his new movie Zack and Miri Make a Porno, and now she's moving on to playing Laura Bush. I hope this doesn't get her deported.
The story comes from HR where they say Banks is in negotiations to play the first lady in Oliver Stone's upcoming film about the life and presidency of America's current commander in chief. It's called W, and already attached to the film is Josh Brolin as Georgie boy.
Since this is an Oliver Stone filme, I'm confident that it'll be completely fair, and unbiased. Or it'll be full of lots of coke sniffing and a lesbian montage dedicated to Dick Cheney's gay daughter. Expect a lot of preaching to the converted.
Your Daily Blend of Entertainment News