Elizabeth Banks Talks Hunger Games And Becoming Effie Trinket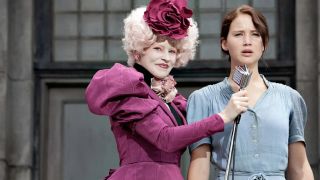 (Image credit: Lionsgate)
Of all the famous adult actors taking part in The Hunger Games-- Lenny Kravitz, Woody Harrelson, Donald Sutherland, Stanley Tucci-- the most screentime by far in the recent trailer went to Elizabeth Banks, who plays the fussy Effie Trinket. Done up in pink eyeshadow, pale makeup and a big ol' wig, Banks was unmissable but also kind of unrecognizable, looking both older than her 37 years and al title bit like an alien. And in an interview with People, Banks said it was that very transformation that helped her get into character every morning on set:
Though The Hunger Games books are known for their violence and sometimes grim attitude, the character of Effie is the opposite. She's a publicist hired by the people running The Hunger Games to shepherd the tributes from District 12-- in this case Katniss (Jennifer Lawrence) and Peeta (Josh Hutcherson)-- and make sure they're polished, camera-ready and presentable for the games. It's a strange contrast especially to the character of Katniss, who is a tomboy with no interest in the hair, makeup and showiness that Effie wants her to participate in. Just as in the books, Banks said that led to some friction between the two characters:
The one part that isn't mentioned in this interview, and wasn't part of the trailer either? The funny, often contentious relationship between Effie and Haymitch, the former District 12 tribute played by Woody Harrelson. The characters are so different and shoved together so often that I'm really looking forward to seeing Banks and Harrelson squabble with each other. The Hunger Games is set for release on March 23 this year, and hopefully this interview with Banks is just the beginning of tidbits we'll be getting from the actors leading up to the release.
Your Daily Blend of Entertainment News
Staff Writer at CinemaBlend