Elizabeth Olsen, Juno Temple And Three More Are BAFTA's Rising Star Nominees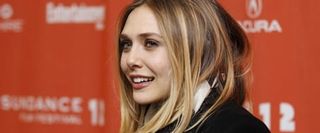 The BAFTA awards-- that stands for British Academy of Film and Television Arts-- are roughly the British equivalent of the Oscars, but there's one very key difference between the two sets of splashy awards ceremonies. The BAFTAs include what's labeled the "EE Rising Star Award," a prize voted on by the public to pick, well, the biggest rising star. Past winners include Tom Hardy and James McAvoy, but Shia LaBeouf and Kristen Stewart have also snagged their own prizes, so popularity sure doesn't hurt.
This year's crop of nominees was announced today, and happily, there's not an embarrassing pick in the bunch. We've got Elizabeth Olsen, the breakout indie star of Martha Marcy May Marlene; Andrea Riseborough, of W.E. and Shadow Dancer (obviously bigger in the UK); Suraj Sharma of Life of Pi; Juno Temple, who appeared in Killer Joe and briefly in The Dark Knight Rises this year; and Alicia Vikander, who played the luminous Kitty in Anna Karenina.
You can vote for the winner by clicking here (opens in new tab), and since there's no clear frontrunner in the bunch, your pick may very well win! The full list of BAFTA nominees will be announced this Wednesday-- one day before the Oscar nominations go out-- and the awards take place Sunday, February 10.
Staff Writer at CinemaBlend
Your Daily Blend of Entertainment News
Thank you for signing up to CinemaBlend. You will receive a verification email shortly.
There was a problem. Please refresh the page and try again.