Elvis Biopic Fame & Fortune Has A Director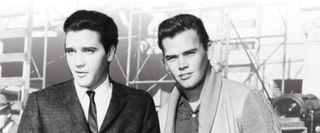 Less than a month after the 34th anniversary of the death of Elvis Presley comes the announcement that The King will finally get his big screen biopic. The Hollywood Reporter published a story naming John Scheinfeld as director for Fame & Fortune, based on the 2007 biography Elvis: Still Taking Care of Business by former Elvis bodyguard Sonny West and biographer Marshall Terrill. The film is aiming for a 2012 release, effectively then the 35th anniversary of the singer's death. Scheinfeld has previously written and directed The U.S. vs. John Lennon and Who Is Harry Nilsson (And Why Is Everybody Talkin' About Him?).
It is confounding as to why it has taken this long for a biopic about Elvis to make it to theaters. I've seen a slew of the TV movies, including John Carpenter's Elvis, but I'm looking forward to The King's life getting the same major Hollywood treatment as that of Ray Charles and Johnny Cash; all of them legends in their own right. They really couldn't f gotten a better director for this project. In addition to writing and directing the aforementioned explorations of the lives of John Lennon and Harry Nilsson, Scheinfeld has helmed projects for television spotlighting singers from Frank Sinatra and Dean Martin to Andy Williams and Brian Wilson. This is a guy who has spent his entire career studying the work of some of the greatest musical talents in history.
Having grown up in a family of diehard Elvis fans, my mother and grandmother particularly, I've read several biographies on the man. It's interesting to me that of all the literature out there on Presley, they chose to adapt one of Sonny West's biographies. Sonny is regarded as a traitor by many Elvis fans. Prior to Elvis: Still Taking Care of Business, West released a book called Elvis, What Happened? co-written with his cousin Red West. This book, released in the 70s prior to The King's death, exposed the darker, unflattering side of Elvis' life. Elvis himself actually read the book and was devastated by it. And while Elvis: Still Taking Care of Business is much more a loving tribute to their friendship, fans to this day are angry at West for his perceived betrayal.
But maybe a mix of genuine admiration and insight into his faults is exactly what a great Elvis biopic needs. Looking back on films like Ray and Walk the Line, it is clear that what makes them work are the trials and tribulations through which we watch these legends battle. Basing the script on the work of someone privy to both the public and private face of The King seems a wise, calculated move.
Your Daily Blend of Entertainment News