Enlightened Creator Mike White Adapting Novel By Silver Linings Playbook Author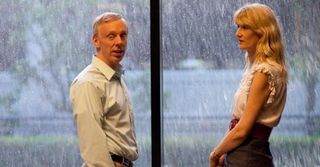 The Weinstein Company fared fantastically with their adaptation of Matthew Quick's novel Silver Linings Playbook. The dark rom-com that starred Bradley Cooper and Jennifer Lawrence not only had critics cheering, and audiences turning out in force, but also won major notice at the Academy Awards with eight nominations and an unforgettable win for the its leading lady. Understandably, all the hoopla surrounding Silver Linings Playbook has other studios looking at Quick's works for possible projects, and DreamWorks is now lining up an adaptation of their own.
Rather than snagging the rights to one of Quick's three other published novels, DreamWorks acquired The Good Luck of Right Now toward the tail-end of award season, when it was only in manuscript form. The story centers on how four outsiders, each plagued by grief, come to form an unlikely family. Variety reports DreamWorks has signed actor-screenwriter Mike White to spin Quick's latest into a movie, one that we suspect will be a dark comedy as well.
This gig is good news for White. As Enlightened, the HBO series he created and co-starred with Laura Dern, was just axed after two seasons, he's likely welcoming the opportunity to dive into something new. Aside from Enlightened, White's also penned films like the Jack Black comedy The School of Rock, the Jennifer Aniston dramedy The Good Girl, and the landmark indie comedy Chuck & Buck. White's known for an off-kilter brand of humor and heart, so if Good Luck of Right Now is anything like Silver Linings Playbook, he could prove a perfect fit for the material.
While the novel The Good Luck of Right Now is slated for release in the spring of 2014, there's no word yet on when the movie would hope to roll into production.
Staff writer at CinemaBlend.
Your Daily Blend of Entertainment News
Thank you for signing up to CinemaBlend. You will receive a verification email shortly.
There was a problem. Please refresh the page and try again.