The Epic Revenge Bill Murray Got On Roger Ebert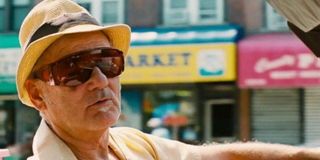 Bill Murray has one of the most mischievous minds in Hollywood history. Normally he uses this to astound his fans by either making a surprising, impromptu speech at a bachelor party or serving drinks behind a bar. But he's now admitted that he played a rather delightful prank on Roger Ebert to get back at the legendary critic after he'd been rather scathing early on in Murray's career.
During his recent appearance on The Howard Stern Show Murray candidly commented on a variety of subjects, but it was his revelation that he sought revenge on Ebert that proved to be the highlight. Murray admitted that the stupendous Chicago Sun-Times movie critic, who died in April 2013, "killed him early on." The Ghostbusters actor stated, "He knew I was a Chicago guy and he cut me absolutely no slack."
However, even though it took him a few years, Murray was able to get Ebert to eventually admit that he now respected the former Saturday Night Live comedian's acting talents. And he did so in a rather devious fashion. The incident took place at the Cannes Film Festival, and it occurred during a press conference for Broken Flowers, the critically acclaimed 2005 drama that was written and directed by Jim Jarmusch, After Ebert complimented his performance in the film, Murray shot back with... well I'll let him explain:
Silly Roger Ebert. However, when you consider how many snide, witty remarks Ebert made to actors, directors, and writers during his lifetime, it's no surprise that he couldn't remember the exact put-down he had for each of them.
Ebert wasn't alone in his praise of Bill Murray's performance in Broken Flowers. In fact, the legendary comedian told Howard Stern that he believes it is the best film that he's ever done. If you haven't seen it you should probably check it out, because it's arguably his most subtle and nuanced performance on the big-screen. To whet your whistle, here's a clip …
Murray's treatment of Ebert is yet another storming addition to the vast cannon of amusing stories that involve the comedian. Anyone who wants to spend a good couple of hours being reminded why Murray is so adored should head over to BillMurrayStory.com, which is a website that is dedicated to celebrating and sharing the various tales that involve the Lost In Translation actor. It's a wonderful way to spend an afternoon. Murray can next be seen opposite Melissa McCarthy and Naomi Watts in St. Vincent, which is open now and goes wider on October 24.
Your Daily Blend of Entertainment News