Every Major Star Trek Movie Villain, Ranked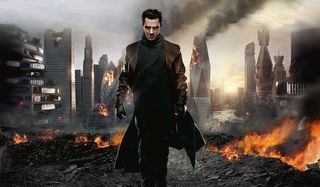 2016 is set to be a big year Star Trek. It is celebrating its 50th anniversary, which means we'll be seeing coverage of the franchise go where no one has gone before…probably. While the new TV series won't arrive in time to celebrate this occasion, fans won't be left empty handed, as the next movie Star Trek Beyond will be released in July. At this point, outside of what was seen in the teaser trailer, little is know about the plot. This includes what its villain Krall, played by Idris Elba, is up to, though presumably he's responsible for the Enterprise crew being stranded on that mysterious planet. However, while contemplating Krall's mysterious role, it does conjure memories of villains past.
With the 50th anniversary nearly upon us, we've decided to look back on Star Trek movie history and see how the previous major adversaries fared in their respective big screen adventures. With the exception of Star Trek IV: The Voyage Home (where the Enterprise crew members were simply victims of circumstance thanks to that whale probe), each Star Trek movie has had a unique big bad who has troubled the main characters. Some of them have been incredible, others have been forgettable, and there's a lot of folks in between. Here is our rankings of all the main antagonists in the 12 Star Trek movies that have come out so far.
11. V'Ger
It's hard to rank V'Ger on this list, given it wasn't so much an antagonist as simply a re-purposed 20th century satellite trying to fulfill its original mission. It may have been a challenge for the Enterprise to go up against, but the fact that there was no way to defeat the thing, except for it to merge with another person, made for a dull conflict. While there were a few moments where V'Ger was terrifying, it was largely a villain of more flash than substance. Unstoppable forces usually don't make for compelling bad guys, and that was especially the case in Star Trek: The Motion Picture. If V'ger was more like Q from Star Trek: The Next Generation and possessed some personality / a few limitations to its powers, we might have had some more respect for this boring baddie.
10. Sybok
Spock's half-brother Sybok's sole appearance was in Star Trek V: The Final Frontier, and we're glad this family reunion was limited to just that movie. The idea of a Vulcan choosing emotion over logic has been touched upon before, but Sybok took it to he next level by pursuing "God" by any means necessary. As it usually the case in sci-fi, this entity turned out to be an alien creature manipulating Sybok, which says a lot for his convictions, as well as his gullible nature. While there was nothing inherently wrong with Laurence Luckinbill's performance, the problem was that he never came off as threatening or intimidating. It's just a shame the material Sybok was saddled with didn't make him look at all interesting, as his brand of villainy wasn't outright nasty, but more simply defiant against the efforts of our heroes.
9. Ahdar Ru'afo
It was clear the minute his stretched-out face was seen alongside Admiral Matthew Dougherty that Ahdar Ru'afo was going to be our chief baddie in Star Trek: Insurrection. His mission was a complicated one: to carry out revenge against the Ba'ku for the perceived slights against the Son'a, while simultaneously harvesting the Ba'ku planet for its regenerative capabilities. The problem was, Ru'afo himself was pretty forgettable. Not only did F. Murray Abraham look ridiculous as the alien, but the material the actor was given was so sub-par that even his performance didn't come off great. It's clear the movie was trying to pass him off as both evil and tragic, but he was so underdeveloped that he never truly felt either.
8. Shinzon
While Tom Hardy has given a lot of great performances in recent years, Shinzon in Star Trek: Nemesis was not one of them. The evil clone of Jean-Luc Picard was originally created by the Romulans to replace his "dad" in Starfleet. But after being tossed aside like yesterday's trash, he rose up to overthrow the Romulan Senate and kidnapped Picard to steal his blood. Instead of resembling a brutal despot, Shinzon was more like a spoiled child who was doing whatever he could to get noticed, and frankly, his grand plan didn't make that much sense. Okay, there were a few moments when he was frightening, but the movie should have spent more time trying to contrast him as what might have happened if Picard went down a dark path in his younger years. Instead, Shinzon was just a weak and pale imitation of the great man we all knew and loved.
7. Khan (Into Darkness)
While Benedict Cumberbatch is one of the most talented actors of our time, his version of Khan in Star Trek Into Darkness didn't measure up to his predecessor. It didn't help that for the better part of a year he was advertised as John Harrison, even though the hardcore fans figured he was Khan months before the release. That's not to say that he was a bad villain in general. He did provide a few terrifying moments, like crushing Admiral Marcus' head or nearly blowing the Enterprise to smithereens. He even managed to seem sympathetic a few times, which is key to some of the better villains in the Star Trek canon. Overall though, this Khan didn't really bring anything new to the table, simply giving us the standard villainy that we expected and nothing more. When the Star Trek fandom looks back on the wrath of Khan, it will be Ricardo Montalbán's face they see, not Cumberbatch's.
6. Nero
As the first villain to kick off the rebooted Star Trek timeline, Nero was a fairly average choice. He certainly had unique motivations. Blaming Spock for the destruction of his home-world, Romulus, he followed the elder Vulcan back in time to kill him. There's no denying that his actions were among the biggest the franchise has seen, but as an individual, Nero wasn't particularly interesting. Although Eric Bana's performance was decent, there just wasn't enough material given to the Romulan to make his personality sparkle. Maybe if the movie had kept those scenes of his time on the Klingon prison planet, we might have been able to feel more for him, but overall it just felt like Nero was running through the motions to alter history for the franchise.
5. Tolian Soran
After many seasons of watching the calm Guinan on Star Trek: The Next Generation, it was interesting to see an El-Alurian who was anything but that. After experiencing the bliss of the Nexus in Star Trek: Generations, Tolian Soran was desperate to get back into that realm, even if it meant destroying two stars and an inhabited planet. This desperation made for a refreshing change of pace from the villains who were seizing power or seeking revenge. However, aside from Soran letting his emotions control his actions, wasn't exactly an exceptional Star Trek baddie. This is even sadder to think about when considering he's the one responsible for Captain Kirk's infamous death. Rather than giving these actions to someone who was truly off-the-charts outstanding, we got a sneering villain who just wanted to go back to his happy place.
4. Kruge
For those who previously saw Christopher Lloyd on the TV series Taxi, it might have been weird watching him as a Klingon in Star Trek III: The Search for Spock. However, Kruge managed to be an entertaining antagonist, standing out in the midst of the movie's okay story-line. While not as manic as some of Lloyd's other characters, he still got to chew the scenery as one of the most dangerous Klingons Star Trek has ever seen. In the midst of killing Kirk's son and trying to destroy the Genesis planet, Kruge showed himself to be fearless and unrelenting in his mission. While he isn't the smartest antagonist on this list, he gets bonus points for seeing his cause through to the end and never wavering.
3. The Borg Queen
Although the concept of a queen clashed with the original collective nature of the Borg, the Borg Queen nonetheless proved to be a great main antagonist in Star Trek: First Contact. On looks alone, she was beyond creepy, especially when her head wasn't attached to her body. Fortunately, the movie also gave her a calm, yet sinister, personality that made her appealing to watch. As far as her evil plot, not only did she try to assimilate all of Earth in the past, but she also attempted to manipulate Data into joining her. With Alice Krige giving a wonderfully enticing performance, she was as charming as she was an embodiment of pure evil. Fans would see more of the Borg Queen in Star Trek: Voyager, but it's First Contact where she was at her finest.
2. Chang
In terms of masterminds, Chang in Star Trek VI: The Undiscovered Country is definitely the best the Star Trek film franchise has to offer. Christopher Plummer's performance gave us a cold and calculating general who was keen on making sure peace was never achieved between the Federation and Klingon Empire. Had Chang been successful in his grand scheme, war would have continued for centuries. Even upon meeting him, his ominous quoting of Shakespeare was enough to show this guy had sinister intentions. The lengths he went to manipulate the "pieces" on this proverbial chessboard fit his character's large than life presence. Plus, Plummer straight up rocked that eye patch, so he was a bad guy with a recognizable look.
1. Khan (Wrath of Khan)
Star Trek II: The Wrath of Khan is often cited as the best Star Trek movie by both fans and critics, and that's in large part due to Khan Noonien Singh, who is considered by some to be Kirk's arch-nemesis. Ricardo Montalbán first appeared as the superhuman in the Star Trek: The Original Series episode "Space Seed," but even without knowing his backstory from that episode, one could still see that he was a fantastic villain, and dare I say it, fun to watch. The 20th century madman may have met his demise in the end, but boy, he sure did give Kirk and his crew hell in the process. Everything from his cunning nature to his over-the-top delivery of lines makes Khan not just the best Star Trek movie villain, but one of the better cinematic villains overall. As mentioned earlier, there may be another version of Khan in the fan consciousness now, but nothing beats the original.
Connoisseur of Marvel, DC, Star Wars, John Wick, MonsterVerse and Doctor Who lore. He's aware he looks like Harry Potter and Clark Kent.
Your Daily Blend of Entertainment News
Thank you for signing up to CinemaBlend. You will receive a verification email shortly.
There was a problem. Please refresh the page and try again.