Ewan McGregor And Evan Rachel Wood Up For Prisoner Of Tehran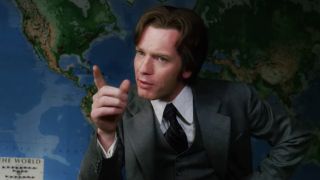 (Image credit: Sony Pictures Entertainment)
You may not know the incredible tale of bravery that is Marina Nemat's, but you will as Intandem Films is turning her memoir Prisoner of Tehran: One Woman's Story of Survival Inside an Iranian Prison into a sure-to-be-compelling drama. Nemat was just a young girl when Ayatollah Khomeini's Islamic Revolution changed the face of her Iranian homeland. At 16, she was like any other teen girl with interests in boys and parties. But when studying the Koran and political propaganda overtook a focus on math and history in her school, Nemat spoke out, and ultimately caused a student walk out.
Her rebellion was taken very seriously by Iranian officials. She was arrested and thrown in the infamous Tehran prison called Evin. Here she was tortured and sentenced to death for her perceived crimes against the state. An unlikely chance at salvation came at the hands of a guard named Ali, who had fallen in love with her. But though she lived and was freed from prison, Prisoner of Tehran is not a tale with a terribly happy ending. It is however, one that is fascinating.
The biopic will be helmed by Kari Skogland, who directed the autobiography-based drama Fifty Dead Men Walking, and Movie Hole reports Ewan McGregor and Evan Rachel Wood are in negotiations to join the project. But before we get our lather up about another example of whitewash casting, note that each are said to be up for supporting roles. So, no, Wood with her signature pale complexion will not be attempting to play an Iranian teenager.
Prisoner of Tehran will be represented at the upcoming American Film Market, so expect more details on its production and cast to be coming soon.
Your Daily Blend of Entertainment News
Staff writer at CinemaBlend.