Ewan McGregor Will Have Prison Sex With Jim Carrey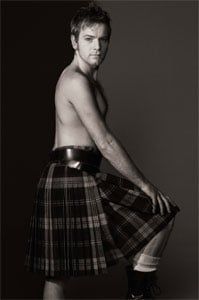 Jim Carrey is falling in love with Ewan McGregor, and they're totally going to make out. On screen anyway. Who knows what'll happen once they walk off camera. Personally, I find Ewan pretty irresistible, but who knows if he'd go for a little hetero on hetero makeout session when there's no one around in his trailer. Come on, it's Ewan McGregor. He got to hold a lightsaber! You get some sort of gay for a day pass for that or something, don't you? He's kind of like Angelina Jolie for guys. Anyway, we know that on screen at least Carrey and McGregor will get all lovey-dovey in a new movie called I Love You Phillip Morris.
Variety says McGregor has been cast as the romantic lead in the film opposite Jim Carrey. The movie is a dark comedy being directed by the guys who wrote Bad Santa. Nobody does dark better than those guys.
The script is apparently somewhat based in fact. It tells the story of a married conman father named Steven Russell, who winds up in a Texas prison and then falls head over heels for his cellmate Phillip Morris (McGregor). Motivated by his desperate dude love, Russell tries to escape from prison no fewer than four times, using such potentially humorous methods as dying his prison outfit to look like surgical scrubs, and faking his death from AIDS. None of them worked, and while Morris got out Russell was sentenced to 144 more years in prison for trying to get out. Whoops.
Your Daily Blend of Entertainment News