Exclusive Clip: Halle Berry And Olivier Martinez In Dark Tide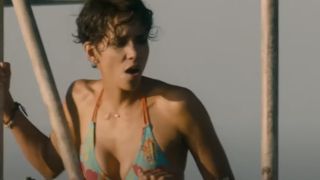 (Image credit: Alliance Cinema)
If Jaws has left you with a tingle of fear every time you get near the ocean, then you might want to steel yourself before checking out Dark Tide, the new thriller that once again reveals the creatures that lurk beneath the water's surface. From director John Stockwell, who explored the ocean twice before with Blue Crush and Into the Blue, Dark Tide stars Halle Berry as a shark expert scarred by a previous disaster on the job, but convinced to go back on another dive into an area they call "Shark Alley." Yeah, of course that's not going to turn out too well.
Dark Tide premiered on VOD platforms on March 8, and it arrives in theaters on March 30. To get an advance look at what to expect when Halle Berry straps on the scuba suit, check out this exclusive clip from the film, in which things are already getting pretty hairy in Shark Alley.
Co-starring in the film with Berry is her recently confirmed fiance Olivier Martinez, so Dark Tide offers some real-life romance and shark attacks all in one-- what more could you want from a movie? Check out the film's official synopsis and poster below, and make sure to schedule your next beach vacation for a while from now-- you might need that time to recover.
Your Daily Blend of Entertainment News
Staff Writer at CinemaBlend