Exclusive Clip: Tom McCarthy And Joe Tiboni Discuss Win Win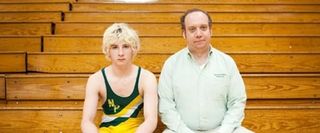 It's like I always say: if there's one thing we need more of, it's movies about high school wrestling.* Thankfully, even if you could care less about kids roughhousing in unitards, there's a bit more going on in the indie comedy Win Win, which hit Blu-ray and DVD today. The mere presence of Paul Giamatti, for instance, insured that my curiosity was piqued, rather than dismissing it as way outside of my interest zone. Hopefully the Giamatti factor will work better than it did in Lady in the Water.
In celebration of Win Win's arrival on home video, and in front of quite a few new eyeballs, Twentieth Century Fox Home Entertainment has sent along an exclusive behind-the-scenes clip from Win Win. In the clip, writer/director Tom McCarthy and Joe Tiboni, who shares a "Story By" credit, discuss the origins and appeal of the film. Here's the official synopsis of the film, and you can check out the clip below:
* I may have never actually said this.
Your Daily Blend of Entertainment News
Thank you for signing up to CinemaBlend. You will receive a verification email shortly.
There was a problem. Please refresh the page and try again.