Exclusive: Journey To The Center Of The Earth Shoots This Fall Starring Josh Hutcherson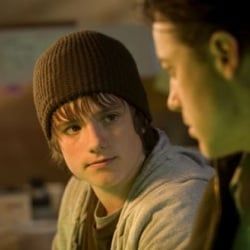 I just got off the phone with Josh Hutcherson to talk about his remarkable performance in The Kids Are All Right, the new comedy coming July 9 which I'm pretty nuts about. All the news about Hutcherson lately has been about his audition to play Spider-Man, and while he didn't have any updates for me on that, he did confirm another big-budget sequel coming his way.
Hutcherson confirmed that, as reported back in May, he'll be taking over as leading man in a sequel to Journey to the Center of the Earth. The original film was released in 2008 starring Hutcherson and Brendan Fraser, but with Fraser out and Hutcherson all grown up, he'll be the lead explorer and kind of a badass:
Filming starts this fall in Hawaii and Australia under the direction of Brad Peyton, who's responsible for this summer's Cats and Dogs: The Revenge of Kitty Galore. Given that an adventure in the lost city of Atlantis was teased at the end of the first film and by original director Eric Brevig, I wouldn't be surprised to see Hutcherson and company diving underwater at those tropical shooting locations.
Much as I really would like to see Hutcherson tackle the Spidey role, though, I'm afraid his commitment to the Journey sequel makes the Spider-Man job seem a little iffier. Sony has already set the superhero film for a July 2012 release date, which means shooting needs to get started very, very soon in order to leave time for all the necessary effects work. Yes, they could definitely put things off until early next year in order to let Hutcherson do both, but I worry they might opt for an actor who doesn't already have a major action franchise getting in the way. I'm keeping my fingers crossed for the kid, but then again, given how much I unabashedly love the cheesy first Journey film, I'm totally looking forward to the Hutcherson-led sequel.
Your Daily Blend of Entertainment News
Staff Writer at CinemaBlend