Exclusive Red-Band Clip: The Perfect Age Of Rock 'n' Roll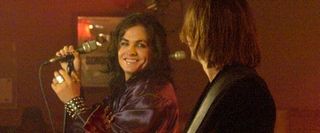 Summer is the perfect time for a road trip, but not all of us have access to a camper and a cadre of eccentric friends who are also dying to pay a visit to Graceland and the world's largest ball of twine. So why not take a trip down the historic Route 66 at the movies, with The Perfect Age of Rock 'n' Roll, an indie opening August 5 both in select theaters and on-demand. Starring Kevin Zegers and Jason Ritter as two childhood friends reuniting their band and healing old wounds years after they found success with their band, the movie is crammed full of music, with both live performances from blues legends like Pinetop Perkins and Sugar Blue and a soundtrack featuring Nirvana, Bob Dylan, Jeff Buckley, Muddy Waters and many more.
Neil Young also plays a key role on the soundtrack, as you can see in the exclusive red-band clip below. The two guys, Spyder and Eric, are crammed into a camper van with the legendary impresario August West (played by the legendary Peter Fonda) and their manager Rose (Taryn Manning), and to kill time on the road they play their favorite game, Name That Tune. In the clip below you get a sense of the dynamic between the band members, and also the chance to drive down the road again with Easy Rider's Peter Fonda. Take a look at the clip below, and below that the synopsis for the film. For more information and information on where to find The Perfect Age of Rock 'n' Roll, visit the official site.
Your Daily Blend of Entertainment News
Staff Writer at CinemaBlend