Exclusive: Wes Bentley On Being Cast As The Hunger Games' Seneca Crane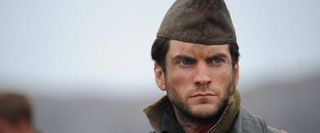 Seneca Crane speaks! As a huge Hunger Games fan, it was a fantastic treat to get word of Wes Bentley snagging the role of Seneca Crane just before my interview with the actor for his work in the upcoming film There Be Dragons. Crane actually goes unnamed in the first book of Suzanne Collins' three-book series, but plays a pivotal part in Panem's annual fight to the death, the Hunger Games. Crane is the Head Gamemaker, the number one amongst a group of about twenty or so responsible for ranking the tributes after they demonstrate their abilities, coming up with the vicious traps within the arena and more.
Of course, Bentley couldn't spill on any details of the adaptation, but that doesn't mean he couldn't talk about how excited he is to be part of the production. And, fans of the book will be pleased, Bentley assured us that while the film will "obviously be a little different" from the source material, he thinks we'll "really dig it." Here's Wes:
Well, I'll certainly take that for now! While we may have quite a while to go before seeing Bentley decked out in his Gamemaker attire, you can catch him in There Be Dragons this weekend. Also, be sure to keep an eye out for the full interview with Bentley and check out the portion of him chatting about The Hunger Games below.
Your Daily Blend of Entertainment News
Staff Writer for CinemaBlend.
Your Daily Blend of Entertainment News
Thank you for signing up to CinemaBlend. You will receive a verification email shortly.
There was a problem. Please refresh the page and try again.