Experience The Adventures Of Tintin On Blu-ray And DVD This March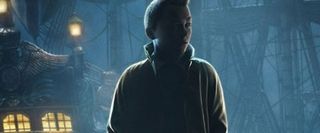 The Adventures of Tintin only made $9.7 million in its opening weekend here in the states. That's sort of mind-boggling when you consider the talent involved: Steven Spielberg, Peter Jackson, Steven Moffat, Edgar Wright, Joe Cornish, Andy Serkis, Simon Pegg. The trailers looked action packed, and the reviews were strong. Even with all that working for them, they still had an uphill battle to overcome the dual facts that Tintin is a largely unknown commodity here in the U.S. and the movie was opening up against powerhouse holiday competition such as a new Mission: Impossible movie and Spielberg's own War Horse. The soft American box office hasn't hurt Tintin too much, since the intrepid reporter has plenty of fans overseas: the worldwide gross is currently at $367 million. Hopefully more American moviegoers will give the movie a shot on home video, and they'll get the chance when The Adventures of Tintin arrives on Blu-ray 3D, Blu-ray, and DVD on March 13th.
Our own Katey Rich gave The Adventures of Tintin four and a half stars, and called it "Steven Spielberg's most purely joyful film in at least a decade." Based on the beloved Belgian comic created by Herge, The Adventures of Tintin sees the titular young reporter swept up in adventure after he buys an old model ship that just happens to contain a clue to finding a long-lost treasure. He teams up with the drunken Captain Haddock (Andy Serkis) and goes on the run from the villainous Sakharine (Daniel Craig). The chase takes them around the globe and through countless exciting, Indiana Jones-style action sequences.
If you're looking for bonus features, the Blu-ray is the way to go, because the DVD will only include two of the many featurettes, "The Journey of Tintin" and "Snowy: From Beginning to End." Here's the rundown:
Blu-Ray
Feature film in high definition
Toasting Tintin: Part 1
The Journey of Tintin
The World of Tintin
The Who's Who of Tintin
Tintin: Conceptual Design
Tintin: In the Volume
Snowy: From Beginning to End
Animating Tintin
Tintin: The Score
Collecting Tintin
Toasting Tintin: Part 2
DVD
Feature film in standard definition
Image 1 of 3
Your Daily Blend of Entertainment News
Your Daily Blend of Entertainment News
Thank you for signing up to CinemaBlend. You will receive a verification email shortly.
There was a problem. Please refresh the page and try again.