Fast And Furious Is Getting Spinoff Movies, Here's What We Know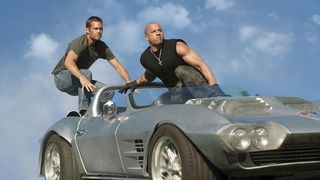 Seven movies in, and even after losing one of its central characters to a tragic car crash, the Fast & Furious franchise shows no signs of slowing down. In fact, they keep getting bigger and better as they go. Though Furious 8 is currently in the works, the family of films is going to expand even more, in new and different directions, with a series of spin-offs.
Variety reports that the high-octane franchise, which recently banked more than $1.5 billion with Furious 7, is going to borrow a page from the ever-expanding Star Wars universe, and produce movies that tell side stories of popular characters, or that explore their earlier days. Star and driving force, Vin Diesel, said:
The Fast & Furious movies have always featured big ensemble casts of characters, and while we've seen bits and pieces of their stories outside of the main narratives, and there have been a few adventures that branch out from the core, there is ample room to see what they get up to on their own.
This isn't even something super new for the franchise, as The Fast & The Furious: Tokyo Drift, the third movie in the franchise, essentially fits into this mold. It exists at a different time, outside the main chronology (though they eventually link up), and follows side characters, putting them front and center. In this film, they already have a bit of a roadmap on how to proceed.
Though Diesel and executives at Universal confirmed that they're working to expand this filmic universe, they didn't specify which characters will get their own solo jaunts. There are tons of directions they could potentially go in this regard, but given the star power, you have to assume that they're going to at least try to make one with Dwayne "The Rock" Johnson's Luke Hobbs, a beefy government agent who travels the globe tussling with villains. This could even serve as a way to bring back characters that have died on screen, like Sung Kang's Han, or Gal Gadot's Gisele.
This kind of universe building is very similar to what Star Wars is going with their Star Wars Stories movies that exist outside of the main narrative thrust of the Episode movies. The idea also obviously shares some DNA with how Marvel uses superhero solo movies to build up the eventual Avengers team up movies, and what it appears DC is doing in their Extended Universe, setting up Justice League films.
While it sounds like this expanded Fast & Furious universe is still very much in development, it won't be too long before we see more insane car stunts from Dom and the rest of the crew. Furious 8 is in the works from Straight Outta Compton director F. Gary Gray and is slated for release on April 14, 2017.
Your Daily Blend of Entertainment News
Thank you for signing up to CinemaBlend. You will receive a verification email shortly.
There was a problem. Please refresh the page and try again.