Star Wars: Rogue One - Everything About The Spinoff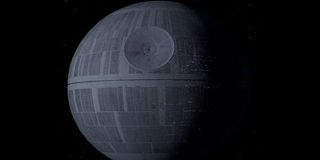 It's an awesome time to be a Star Wars fan. When Disney bought out Lucasfilm back in October of 2012, they laid out a plan to expand the world George Lucas created to a degree we've never seen before. They may have scrapped all of the Expanded Universe material that accumulated over the years (or at least decreed that it's not official canon), but they're working their tails off to fill in that void with projects like the upcoming Rogue One: A Star Wars Story.
At this point, we already have new novels, an animated television series in Star Wars Rebels, a handful of comic book titles from Marvel, and, of course, J.J. Abrams' Star Wars: The Force Awakens. All of the expanded universe stuff is great, but the movies are what fans really want to see, and in addition to a new trilogy of interconnected saga movies, we're getting a series of standalone, so-called, "anthology" films that examine unexplored areas of the Star Wars saga, illuminating various corners of that far, far away galaxy.
Within these anthology movies, which have also been called "Star Wars Stories," we'll get to peer into the hidden crevices of this universe we love so much, explore different times and places, and possibly learn about events we've only ever heard about. The first of these is Rogue One: A Star Wars Story, and we have a lot of questions. Who is going to star? What will it be about? Will we see familiar characters? Will this impact/be impacted by the other films? Let's take a look at what we know about Rogue One so far.
First, let's take a look at the newest trailer!
And now let's break down what we know about the latest Star Wars feature, starting with:
What Is The Star Wars: Rogue One Release Date?
As mentioned earlier, it's a good time to be a Star Wars fan. In addition to the surplus of other officially canon material, which includes everything from TV shows to comics and video games like Star Wars: Battlefront, we're getting at least one movie a year for the foreseeable future - alternating between Episode titles like Star Wars: The Force Awakens, and Anthology chapters, like Star Wars: Rogue One. Star Wars movies have, up to this point, traditionally arrived in theaters in May of their respective years of release. The Force Awakens changed that trend, however, and was a huge winter blockbuster in December 2015. For now, the franchise will stick to this schedule, as Rogue One: A Star Wars Story is scheduled to be released almost exactly one year after, with a December 16, 2016 release date on the calendar.
From the look of things, there won't necessarily be a ton of consistency release date-wise with the upcoming films. Rian Johnson's Star Wars: Episode VIII, which doesn't currently have a title, will also be a pre-Christmas release, coming out on December 15, 2017. Less than six months later, specifically on May 25, 2018, audiences will be treated to Phil Lord and Chris Miller's Han Solo film - and then Colin Trevorrow's Star Wars: Episode IX will come out a year after that (on May 24, 2019).
What Is The Star Wars: Rogue One Rating?
Films don't typically get their official rating until just a few weeks before they open, so, since we still have some months to wait before Star Wars: Rogue One hits theaters, we aren't completely sure of the rating just yet. But, the Star Wars movies have a long history of PG or PG-13 ratings, so you can bet that this film will be in line with that track record. Star Wars: The Force Awakens had a PG-13 rating, and it's even more likely that Rogue One will carry the same rating when it opens this December.
The Director
Pretty much the first thing we learned about Rogue One: A Star Wars Story, even well before the title was revealed, was that Gareth Edwards was going to direct. Edwards only has two feature directorial efforts under his belt, but they certainly made an impact. His first film, 2010's micro-budget Monsters, is a tense, unique take on the creature feature - one where the filmmaker handled all the visual effects himself. While that movie wasn't exactly a blockbuster hit, Edwards' talent caught the eye of Hollywood, and he was given the reins of 2014's Godzilla revamp. His attempt to bring the King of the Monsters back to the metroplex was a rousing success.
These two very different films showcase a varied skill set that should serve Edwards well on Rogue One: A Star Wars Story. He's shown he can tell a character-driven story, as well as one that relies on action, large-scale special effects, and spectacle - and both of those elements will come in handy in deep space. In Monsters, the titular beasts are relegated to the background, adding an extra layer of mood and tone to the story that is really about two people wandering the wilderness. This shows that he has the ability to get you emotionally invested in the people onscreen, without relying solely on flash to keep your attention. While Star Wars has always been full of eye candy, it's the characters that stick with you.
What Is The Star Wars: Rogue One Story?
We've been hearing rumors about the plot of Rogue One: A Star Wars Story since the earliest stages of development, with whispers of rebels, a daring heist, and an Ocean's Eleven-style ensemble of characters coming together to pull off a job. At Star Wars Celebration 2014, we got confirmation that some of that is correct. The story follows a band of rebel fighters who steal the plans for the first Death Star. That definitely covers the heist element, not to mention it sets the action in the time between Revenge of the Sith and A New Hope, as resistance to the Galactic Empire begins to build momentum.
While this links the story to the main narrative thrust of the Star Wars saga, it also looks like it might do something no movie in the franchise has ever done: focus on normal people in the universe. The Jedi mythos has figured prominently into every extant Star Wars film, and while we've seen and encountered non-powered people, with the exception of Han Solo, they've never really taken center stage. If nothing else, this is going to be a drastically different view of this universe in which we've spent so much time, and it's been promised that, while most of the Saga has been rather black and white, Rogue One is one big shade of gray in terms of who is right and who is wrong in the rebellion against the Galactic Empire.
Jyn Erso (Felicity Jones)
When the cast for J.J. Abrams' Star Wars: The Force Awakens was first announced, one of the immediate reactions was that there were only a few female characters. Obviously the release of the blockbuster revealed that Daisy Ridley's Rey will be the central hero of the new saga trilogy, but those won't be the only new movies featuring strong female leads. The first actor confirmed to be in Rogue One: A Star Wars Story was Felicity Jones, and it will be through her eyes that we see the movie's story unfold. In addition to popping up in 2014's The Amazing Spider-Man 2, the 31-year-old British actress received an Academy Award nomination for her role as Jane Hawking in the biopic The Theory of Everything.
As for the character that Felicity Jones will be playing, the first teaser trailer for Rogue One: A Star Wars Story does a pretty fantastic job giving us a bit of backstory for Jyn Erso. On her own since she was a teenager, she is a fighter with very little appreciation for authority - which leads her to find a home for herself in the rebellion. The footage we've seen seems to suggest that she'll be undergoing a bit of training in the movie, but it also sounds like she will have a key role in the heist of the Death Star plans.
The Leading Men
Felicity Jones is the central protagonist of Rogue One: A Star Wars Story, but the nature of the film's story demands a fairly large ensemble of actors - and that's exactly what the production has collected. During Walt Disney's D23 Expo in August of 2015, the studio confirmed a number of the main members of the cast. This is a list that includes:
Diego Luna
Ben Mendelsohn
Donnie Yen
Jiang Wen
Forest Whitaker
Mads Mikkelsen
Alan Tudyk
Riz Ahmed
Very little is known about most of the characters that the actors are playing in the movie, but some information has leaked out and been revealed in footage. For example, it's been reported that Alan Tudyk won't be featured in the movie in person, but instead will be providing a motion capture performance (playing a droid called K-2SO). Additionally, Mads Mikkelsen will not be playing a villain in the movie (a nice break for him), and will reportedly be Galen - who may be Jyn Erso's father.
Instead of Mikkelsen, it instead seems as though the central villain of the film will be Director Orson Krennic, played by actor Ben Mendelsohn. Almost nothing has been revealed about this character yet, though we do know that he is a high-ranking member of the Galactic Empire, and that he looks damn good in a space cape.
It's also been revealed that the character being played by Forest Whitaker has an interesting bit of history. In Rogue One: A Star Wars Story he will be playing Saw Gerrera - which is a name that fans of the animated Clone Wars television show should recognize. Gerrera, paired with his sister Steela, were featured in four episodes of the series' fifth season, and they were rebels who fought alongside the central heroes, Anakin Skywalker, Obi-wan Kenobi, and the young Ahsoka Tano. Rogue One: A Star Wars Story is set 20 years after those events, so it will be interesting to learn exactly what he's been up to since then.
What 'Anthology' Means
You have probably noticed by now that Rogue One is being called an "anthology" film. When you think of what normally constitutes an anthology film, you generally call to mind films made up of multiple chapters - essentially a series of connected short films (with the V/H/S and ABCs of Death series, there has been a glut of such projects in horror lately). The Star Wars franchise is tweaking that definition slightly, and basically using the word "Anthology" to mean "Stories Told Outside Of The Central Saga."
This classification sets Rogue One: A Star Wars Story and the films that will follow it apart from the "Episodes," and while the events will impact the continuity of the Star Wars universe (obviously stealing the Death Star plans plays a big role) they're markedly different from what has come before. We've so far seen the journey of the Skywalker family in the films, and the Anthology films will tell stories just outside of that realm. It also appears these movies will explore side stories that appear to have less focus on the Force and the Jedi.
In addition to Rogue One: A Star Wars Story, LucasFilm and Disney are developing two other Anthology projects, set to come out in 2018 and 2020, respectively. The first, which is set to be directed by Phil Lord and Chris Miller, is the untitled Han Solo movie, starring Alden Ehrenreich as the younger version of Harrison Ford's legendary smuggler character. The third project, which has yet to reveal its central subject, was going to be directed by Josh Trank, but has been in stasis ever since the film and the filmmaker parted ways in 2015.
Familiar Characters
As mentioned earlier, a significant part of the raison d'etre for Rogue One: A Star Wars Story is to tell the stories of characters not necessarily directly related to the Skywalker clan and the central Star Wars saga. Of course, that doesn't mean that the film won't have a handful of recognizable faces from previous chapters in the franchise. We've already talked about Forest Whitaker's role as Saw Gerrera from Clone Wars, and the first trailer showed that Genevieve O'Reilly will be reprising her role as Rebel leader Mon Mothma from Star Wars Episode III: Revenge of the Sith (the character first played by Caroline Blakiston in Star Wars Episode VI: Return of the Jedi. But they won't be the only familiar faces that we see in Gareth Edwards' blockbuster.
It was first confirmed in the trailer shown at Star Wars Celebration 2016 that Rogue One: A Star Wars Story will feature the big screen return of one of the most iconic villains in cinema history: Darth Vader. Unfortunately, because the footage only featured the Sith Lord's breathing and a reflection of his image, it wasn't exactly informative in terms of what role the great antagonist will play. As shown in Star Wars Episode IV: A New Hope, he is definitely in the mix once the Death Star plans get stolen, intercepting Princess Leia on the Tantive IV, but we don't really now how he will be involved while the mission is actually happening.
Another character who fans will very likely be excited to see return for Rogue One: A Star Wars Story is a key figure from George Lucas' prequel movies: Senator Bail Organa. Played by Jimmy Smits, Organa was first introduced in Star Wars Episode II: Attack of the Clones, and while he obviously sits in an important political position within the fictional universe, fans mostly recognize him for something else: he is Princess Leia's adopted father. Smits has gone on record about his role in Rogue One, calling it both a "cameo" and a "small part," so obviously we're still very much in the dark about his larger role in the film.
John Williams
For many of us, John Williams and his rousing scores are practically synonymous with Star Wars. If you need a reminder of just how important his work is to these movies, just check out this scene from A New Hope without his signature sound. While the 83-year-old composer was back to contribute to The Force Awakens, he will not work on any of the Anthology movies. Consequently, we won't hear his soaring themes in Star Wars: Rogue One, making it the first Star Wars movie to hit theaters without a Williams score.
While he may be no John Williams, Gareth Edwards and company have found a strong replacement in Academy Award-winning composer Alexandre Desplat. He and Edwards worked together on Godzilla, and there are few composers out there as celebrated. He walked away with an Oscar in 2015 for his work on Wes Anderson's The Grand Budapest Hotel - and he was actually competing against himself in that race, as he was also nominated for his contribution to The Imitation Game. It will be interesting to see if he puts his own unique stamp on Star Wars with Rogue One, or if he attempts to channel John Williams.
Your Daily Blend of Entertainment News
Assistant Managing Editor
NJ native who calls LA home and lives in a Dreamatorium. A decade-plus CinemaBlend veteran who is endlessly enthusiastic about the career he's dreamt of since seventh grade.