Will Ferrell And John C. Reilly Working On A Step Brothers Rap Album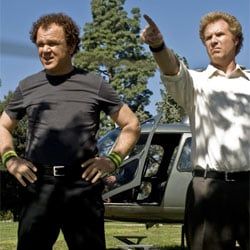 Last week they put liquid paper on a bee. It died, but that experiment launched Prestige Worldwide into a whole new realm of business. The company, originally formed by Will Ferrell and John C. Reilly in Step Brothers, is now following up that semi-successful bee test by getting into the rap game. According to a tweet just sent out by Step Brothers director Adam McKay, "Are we currently working on a Step Bros rap album? Yup."
UPDATE! McKay has added a second tweet confirming that he's for real and that they have a serious producer on board. He says, "I wasn't kidding about Step Bros rap album. And we just found out we have a crazy big time producer. Mos Def, you up for a guest flow?"
What is it for? My guess would be as a short for McKay and Ferrell's comedy site Funny or Die but McKay doesn't say. There have been rumors that at some point Step Brothers might get a sequel. This summer Step Brothers co-star Richard Jenkins told us here that he'd spoken with McKay about doing a Step Brothers 2, and sort of seemed to think another one was inevitable.
For those of you unacquainted with the past work of Prestige Worldwide, here's their original business presentation from Step Brothers in which they also begin their first forays into the world of rap with a seafaring music video:
Your Daily Blend of Entertainment News
Thank you for signing up to CinemaBlend. You will receive a verification email shortly.
There was a problem. Please refresh the page and try again.