Will Ferrell And Mark Wahlberg Looking To Reteam For Daddy's Home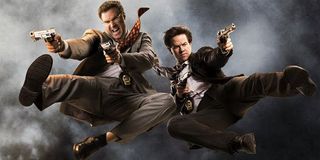 Mark Wahlberg has made a solid career leaping from one genre from another. He has tackled dramas like Lone Survivor and The Fighter. He's gone action hero in Max Payne and the upcoming Transformers: Age of Extinction. But for me, Wahlberg is at his best in comedies, be it as a teddy bear-loving manchild in Ted, a philosophically tormented firefighter in I Heart Huckabees, or a sociopathic body builder in Pain & Gain. So color me stoked that he is lining up to join the Will Ferrell comedy Daddy's Home.
Deadline reports Mark Wahlberg has entered into negotiations with Paramount Pictures to co-star in Daddy's Home, a laffer the studio is hot to shoot soon. If the deal is closed, Wahlberg would be reuniting with Will Ferrell, with whom he starred in the hit 2010 action-comedy The Other Guys. You might well recall that buddy-cop movie had the pair playing partners who couldn't have had less in common. In Daddy's Home, these two are poised to play opposites once more.
Scripted by Brian Burns, Adam McKay & Chris Henchy and Etan Cohen, Daddy's Home will star Will Ferrell as an uptight radio executive who has recently married a divorced woman. His character is deeply committed to being the best stepdad possible to her two children, but his attempts at bonding are thrown into spin when their real dad crashes into their lives once more. Described as a freewheeling freeloader, this deadbeat dad is the role for which Wahlberg is in talks. Should he sign on, Wahlberg and Ferrell will play desperate dads feuding over the affections of these sure-to-be spoiled kiddos. There is no mention yet as to might be cast as the wife/mother of this fused family.
Daddy's Home is a Gary Sanchez production that Paramount has been trying to kick into gear since last year. Early on, Vince Vaughn was attached to play the deadbeat dad opposite Ferrell, while Etan Cohen was set to direct. Cohen is best-known as a writer for the animated series King of the Hill and comedies like Tropic Thunder and Men in Black 3. He is currently in production on his directorial feature debut Get Hard, which follows a convicted millionaire's preparation for prison. Will Ferrell and Kevin Hart front this presumably funny film, but it seems nursing its post-production in preparation for its spring release date of March 27th, 2015, may have bumped Cohen off of Daddy's Home.
As they hash out a deal with Wahlberg, Paramount is courting That's My Boy helmer Sean Anders to direct alongside John Morris, who recently shared the load of directing Horrible Bosses 2 with Anders. This should give you a pretty clear idea of what level Daddy's Home is operating on. If production does go off this fall, we could be seeing this two-hander comedy as soon as next summer.
Your Daily Blend of Entertainment News
Staff writer at CinemaBlend.