Will Ferrell Says Anchorman 2 Is On Hold UPDATED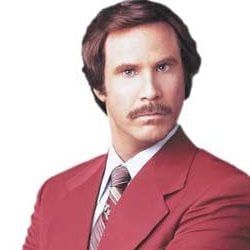 UPDATED: These quotes are recycled from last year. So, ignore.
Anchorman 2 has long been one of those movies, like the Arrested Development movie, that gets brought up every time one of the actors or writers involved goes on a press tour, and everyone swears they'll be doing it soon. It was kind of like a Christmas that never came, something to look forward to even though in your heart of hearts you kind of assumed it would never happen.
Now Will Ferrell is here to steal Christmas away entirely. Contact Music picked up on a conversation he had with Zoo Magazine in which he said, "I thought we were doing it. I was told it was happening and now I've heard it's going to be too hard to get everyone together." He's holding out hope that director Adam McKay will be able to gather everyone together, but let's be honest-- Ferrell is likely the busiest of the bunch, and a major part of the scheduling problem.
Still, though, he's not giving up hope, and talked about exactly how weird they'd like to make it. "We don't think we can make it as good. It would be really fun to do, so we might just try to make the craziest sequel you've ever seen. It could be terrible, but if they're going to pay us to do it, then why not, right?" So maybe Anchorman 2 will consist of nothing but the street rumble between the rival news teams... but I'll believe it when I see it.
Staff Writer at CinemaBlend
Your Daily Blend of Entertainment News
Thank you for signing up to CinemaBlend. You will receive a verification email shortly.
There was a problem. Please refresh the page and try again.