Fifty Shades Of Grey Music Video Is Way More NSFW Than You Imagined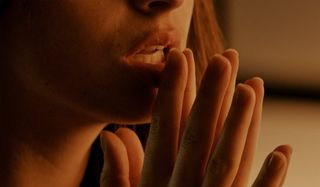 Everything about the Fifty Shades of Grey movie screams NSFW. It's adapted from a booked based on saucy Twilight fan fiction, and it features a billionaire looking for someone to love his BDSM fetish as much as he does. So was there any doubt that the first music video for one of the film's songs would be provocative? Watch below:
The Fifty Shades of Grey soundtrack features an array of baby-making hits, like Annie Lennox performing "I Put a Spell On You" and a sexified remix of Beyonce's "Crazy In Love." But this music video is for neither of those. The Weeknd's "Earned It" was released as the soundtrack's single, and they debuted a pretty racy video of Abel Tesfaye surrounded by a small army of scantily clad women performing a scandalous burlesque routine. But the cherry on top of this BDSM sundae is a nearly naked Dakota Johnson dangling from the stage ceiling and covered in ropes. She does have some tan-colored undergarments on, but they are few and far between. If she doesn't want her mom to see the actual movie, she probably shouldn't tell her about this video either.
Fifty Shades of Grey director Sam Taylor-Johnson (the wife of Quicksilver, Aaron Taylor-Johnson) also directed this music video, the song for which she calls a perfect match for the film. Constantly playing The Weeknd's music in her own household, she describes the artist as having a quiet seductive air about him that just draws you in. It was this quality, coupled with his music, that prompted Taylor-Johnson to want more. She and Universal asked him for more music to play during certain scenes of the movie. Though she wouldn't specify which ones, you can bet they'll be used to their fullest extent (i.e. on the steamiest of scenes). So aside from the end credits, be sure to listen for his tunes throughout the film.
All we want now is a music video for that Beyonce remix, though. We sort of got one, in a sense, when it debuted on the first trailer for the film, but we want more. And by "more," we mean we want to see something like Queen B putting on a show for her boo, Jay Z, in that "Partition" video. Despite the explicit nature of all the materials associated with the movie, Christian Grey (Jamie Dornan) promises the film won't be all about bondage sex. Johnson and her team edited it from an NC-17 rating to R, and the sex scenes that were included serve their purpose, which seems like no easy task. However, she does promise that fans of the book will find that there's plenty of (*cough*) action to go around.
Your Daily Blend of Entertainment News