There's More to Fifty Shades of Grey Than Bondage Sex, Swears Jamie Dornan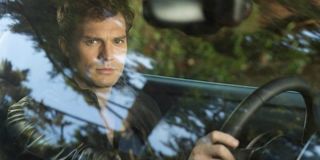 If you can believe it, there's more to Fifty Shades of Grey than BDSM ... it's also a movie based on a book based on a piece of online Twilight fan fiction. But in all seriousness, the film's star Jamie Dornan wants to assure everyone that, before all of these descriptors, it's a love story first and foremost.
Still, Fifty Shades has a pretty ridiculous premise: a literature major is seduced into the world of a debonaire billionaire who turns out to have a secret chamber filled with all manner of kinky sex toys (and who also may or may not be based on Edward Cullen). Even the movie poster was considered too kinky. However, as Dornan said in an interview with Elle UK:
After all, it is opening on Valentine's Day this year for those couples looking for to spice up the night.
Unfortunately for Dornan, sex has been all anyone ever thinks about when talking about Fifty Shades. From the movie's rating to Dornan telling The Guardian he won't be showing off his full-frontal goodies, the fans are expecting a faithful adaptation of the book. Forbes even speculated that holding back on the sex factor could hinder its performance and reception. According to Dornan, the point isn't to gross out the audience.
Off-camera, though, Dornan did do a lot of research into the BDSM scene to get into the mindset of Christian Grey.
While we're sure Charlie Hunnam would've been great in the role, Dornan is actually pre-built to handle its responsibilities. In other words, he has no problem dropping trou on command. He spent a large chunk of his career doing just that in front of cameras as a fashion model for brands like Calvin Klein and Armani Exchange. Since then, he's developed his acting chops with roles in Once Upon a Time, a TV miniseries called New Worlds and some smaller indie films. But his portrayal of a sadistic serial killer in the BBC series The Fall proves he can embody even the most freakish of characters. If the sex is going to be downplayed in Fifty Shades, he better let his freak flag fly.
Your Daily Blend of Entertainment News