Dakota Johnson Doesn't Want Her Mom To See Fifty Shades Of Grey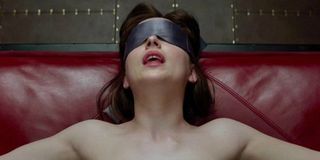 Dakota Johnson has allegedly told her mother, Melanie Griffith, that she is not allowed to see Fifty Shades Of Grey under any circumstances. Dakota Johnson will play Anastasia Steele in the hugely anticipated adaptation, and she's expected to show off plenty of skin in the role.
Dakota Johnson clearly isn't comfortable with her mother seeing her in the sexually compromising situations that she is inevitably going to be in as the lead of Fifty Shades Of Grey.After being harangued/quizzed by TMZ outside of a restaurant, Melanie Griffith told the website that Dakota Johnson had warned her not to watch the film, and she had some specific reasons why. Said the actress,
Of course there are numerous explicitly erotic reasons why Melanie Griffith might find herself uneasy seeing her daughter in Fifty Shades Of Grey. E.L. James' novel is racy to say the least. It revolves around Dakota Johnson's Ana Steele, a literature student who begins a sexual relationship with the wealthy and mysterious Christian Grey, played by Jamie Dornan. As they grow closer and closer she learns more about Grey's need to control every little thing in his life. Those of you who have seen the trailer for >Fifty Shades Of Grey will know that the film is expected to be just as sensual as the novel it is based on.
Some movie fans will be quite shocked by Melanie Griffith's admission that she won't be watching Fifty Shades of Grey. The 57-year-old actress is far from a shrinking violet herself and she has appeared scantily clad in numerous films throughout her career. Anyone who has had the chance to see either Body Double, Fear City or Working Girl will know exactly what I'm talking about. But this picture will tell everyone else all they need to know.
Of course it's a little different when your daughter is involved and it's completely understandable why Melanie Griffith has decided to adhere to Dakota Johnson's request. The erotic, romantic drama is being directed by Sam Taylor-Johnson and will also feature the acting talents of Eloise Mumford, Luka Grimes, Rita Ora, and Marcia Gay Harden. It will hit cinemas on February 13, 2015. Then we'll know what Dakota Johnson is so worried about and whether the film will still manage to make a profit without Melanie Griffith's ticket.
Your Daily Blend of Entertainment News