First Chronicles Of Narnia: Voyage Of The Dawn Treader Trailer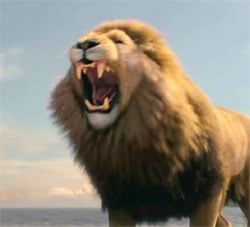 In the time since the last Chronicles of Narnia movie in 2008, the franchise has switched studio distributors, but judging from the first trailer for Voyage of the Dawn Treader, everything else has stayed the same. They've kept the cast intact and most of the look of the film. For me the big difference in this installment is the story, which is in my humble opinion, the very best work of C.S. Lewis.
Voyage of the Dawn Treader is a very different book from the two we've already seen on screen and in my opinion also a lot better. There's no war to fight and while Aslan and Prince Caspian and a lot of the characters we know are present, they're involved in a new kind of story. The two oldest kids from the previous film are left at home while the youngest, Lucy and Edmund get drawn into Narnia with a new human character named Eustace. Actually Eustace ends up being a central figure in the Narnia universe and as a fan of the books, he is by far my favorite human character. So it's somewhat worrying that aside from a momentary glimpse off to the side in a single scene, he's left entirely out of the trailer.
Yet aside from Eustace's unfortunate absence Narnia looks splendid. I know a lot of people grew tired of the series after the last movie, in fact it's almost as though it's been completely forgotten in the couple of years since Narnia was last on screen, but give The Chronicles of Narnia: Voyage of the Dawn Treader a chance. Here's the movie's first trailer, look for the film in theaters on December 10th.
Your Daily Blend of Entertainment News