First Image And Synopsis For Cars 2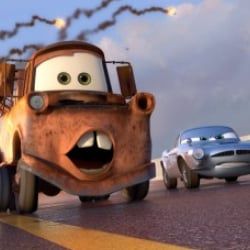 If you were a little baffled when the teaser trailer for Cars 2 suggested that Lightning McQueen and Mater had gone into the spy business together, you definitely weren't alone. To calm all your fears and tell you a little bit more of what to expect from the Pixar sequel next summer, the studio has released a synopsis for the film, which Hey U Guys has posted along with the first official image:
There's nothing in there we didn't really already know-- the international plot has been rumored for years now-- but it's kind of good to know that the espionage plot comes out of Mater's familiar good-natured bumbling, not from some totally weird and out of character plot twist. Surely nobody's as excited for Cars 2 as they were for Toy Story 3 or an original Pixar movie, but at least the sequel seems to be changing things up in an interesting way and not just trying to replicate what worked-- and yes, there were things there that worked-- about the first film.
Check out the new Cars 2 image below:
For more on Cars 2 visit the Blend Film Database.
Your Daily Blend of Entertainment News
Staff Writer at CinemaBlend