First Look At Will Ferrell, Megan Fox, Jennifer Connelly And More In Their Toronto Film Festival Roles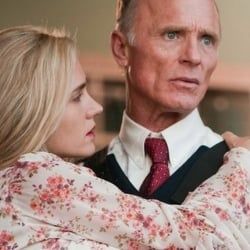 Earlier today the folks behind the Toronto Film Festival announced a long list of films that are being added to this year's lineup, including Matt Reeves's Let Me In, Danny Boyle's 127 Hours, the Will Ferrell drama Everything Must Go and Milk writer Dustin Lance Black's directorial debut, What's Wrong With Virginia. To coincide with the announcement they also added a ton of images to the press site, including first looks at some of the films and new images from some others we've seen a little more of.
Below are some of the more interesting images, along with the description of the films they go with. Take a look at Megan Fox as an angel, Will Ferrell selling his belongings on his front lawn, Richard Jenkins doing some bloody work and much more. As you may know we'll be covering the Toronto Film Festival for the first time this year, so start coming back September 9 for full reports on all these movies and many more.
127 Hours. Dir. Danny Boyle. Starring James Franco, Kate Mara, Amber Tamblyn, Clemence Poesy.
In 2003, a young American outdoorsman ventured into the arid desert and canyons around Moab, Utah on a weekend excursion. He was alone, ripping across the rocky, undulating landscape on his mountain bike with all the rambunctious exuberance of a young man in love with life and risk. Little did he know that his latest adventure was about to change into one of the most compelling stories of courage and survival.
In his follow-up to the immensely successful, Academy Award®-winning Slumdog Millionaire, Danny Boyle has turned to the true story of Aron Ralston, who found himself fighting for his life after his right hand was crushed and trapped by a boulder in a freak accident. Despite his Herculean attempts to move the rock, Aron's luck seemed to have run out.
The Conspirator. Dir. Robert Redford. Starring Robin Wright, James McAvoy, Tom Wilkinson, Kevin Kline, Alexis Bledel, Justin Long, Evan Rachel Wood.
Cinema icon Robert Redford returns to his independent filmmaking roots with The Conspirator, the suspenseful, true story of the lone woman charged in the assassination of U.S. president Abraham Lincoln, and the 28-year-old Union war hero who must defend her. With America's most famous assassination as a backdrop, Redford tells a poignant story about loyalty and honor.
Having just returned victorious to Washington D.C. from the closing battles of the Civil War, Frederick Aiken (James McAvoy), a Union war hero and idealistic lawyer, is eager to make his name in politics. A bright-eyed nationalist, he is thrilled when he gets an audience with Lincoln's secretary of war, Edwin Stanton (Kevin Kline), at a high society party. However, the meeting is cut short when a shot fired in Ford's Theatre from the gun of John Wilkes Booth changes everything.
With the nation mobilized to hunt down those responsible for the assassination, the authorities arrest Mary Surratt (Robin Wright), mother of John Surratt, suspected of collaborating with Booth. A Confederate sympathizer and devoted mother, Mary refuses to reveal the location of her son. Whipped-up into an emotional fury, the public calls for her blood.
Everything Must Go. Dir. Dan Rush. Starring Will Ferrell, Rebecca Hall.
Everything Must Go – at once a sales pitch and a surrender to fate – is a perfectly apt title for this melancholic yet entertaining film that dismantles the structures, behaviours and relationships we have come to consider normal.
Nicolas Halsey (Will Ferrell) is not having a good day. Not only has he been fired from his sales-manager job of sixteen years, but he returns home to find the locks changed and his belongings strewn outside, the spoils of his failed marriage scattered across the lawn for all the world to see.
So starts Everything Must Go, a wryly humorous drama starring Ferrell, which examines five endless days in the life of a man who believes he has lost everything. Deciding to both fight and give up, Nick appropriates the object-laden lawn as his living room; he stations himself in a recliner and entertains himself with neighbour-watching, while steadily chipping away at his six-month sobriety. When the police show up to shut down the illicit spectacle, he invokes a legal loophole that buys him four more days of lawn-time: residents of Plano, Texas are permitted to hold private yard sales for a maximum of five consecutive days.
It's Kind of a Funny Story. Dirs. Ryan Fleck and Anna Boden. Starring Keir Gilchrist, Zach Galifianakis, Viola Davis, Emma Roberts.
Powered by a breakout lead performance that's nothing short of a revelation from comic star Zach Galifianakis, It's Kind of a Funny Story is a deft dive into the world of teen angst. It's also a surprisingly funny film from the directors of Half Nelson and Sugar.
Checking yourself into a psych ward may seem extreme, but if you're like Craig (Keir Gilchrist) – sixteen years old, attending a school for gifted students and carrying a ticking time bomb of high expectations from your upper-middle-class New York parents – then it can be a mature act of self-preservation. Unfortunately for Craig, a shy, sensitive boy prone to shocking moments of awkwardness, the adolescent ward is being renovated and he can find room only in the adult wing.
Last Night. Dir. Massy Tadjedin. Starring Keira Knightley, Eva Mendes, Sam Worthington, Guillaume Canet.
Keira Knightley and Eva Mendes join forces in this tantalizing and emotionally powerful story of trust, lust and deception. Last Night is a brilliant evocation of all the grey zones of fidelity – how a choice made in a mere instant can be of regrettable and irrevocable consequence.
Michael and Joanna Reed (Sam Worthington and Knightley) seem to have it all. Young, attractive and successful, they're a married couple who've lucked into spiritual and material well-being, sharing a comfortable and seemingly perfect life in their trendy Manhattan apartment. But when the Reeds attend one of Michael's work parties, Joanna witnesses a suspicious moment between her husband and his beautiful new co-worker, Laura (Eva Mendes). The incident is fleeting and ambiguous – Joanna can't be sure what she did or didn't see – but it sows an insidious seed of doubt that festers at the core of their love.
Stone. Dir. John Curran. Starring Robert De Niro, Edward Norton, Milla Jovovich.
There is no greater pleasure in cinema than watching great actors at work. Director John Curran (We Don't Live Here Anymore) once again guides top actors to terrific performances in Stone. Delving into the mind of a deranged arsonist and an off-kilter parole officer, this taut thriller pits two generations of Hollywood's most compelling dramatic actors against each other in a battle of blackmail and emotional manipulation.
Jack Mabry (Robert De Niro) is an unforgiving man, hardened after years of working as a parole officer. Nearing retirement, he takes one last case. The man in question, Gerald "Stone" Creeson (Edward Norton), is a convicted arsonist up for his latest parole hearing, but full of his usual bravado and twisted logic. A decade earlier, he and his cousin broke into his grandparent's home, murdered them and burned their house to the ground. Now, Stone insists that his beautiful but not-quite-there wife, Lucetta (Milla Jovovich), meet with Jack. Against his better judgment, Jack meets her one whisky-fuelled evening, and it soon becomes apparent that no one involved has pure intentions.
SUPER. Dir. James Gunn. Starring Rainn Wilson, Liv Tyler, Kevin Bacon, Ellen Page.
With the recent onslaught of superhero send-ups, it seems as though this premise has become somewhat of a genre unto itself. No stranger to rebel filmmaking, James Gunn cut his teeth writing for Troma before making his directing debut with 2006's Slither. In a similar vein, his follow-up feature combines absurd humour with balls-out violence to create something that is both unashamed and inimitable. But this time Gunn adds a new ingredient, one that is dark, dramatic and subversive to the core. When sad sack Frank D'Arbo (Rainn Wilson) sees his ex-addict wife (Liv Tyler) willingly snatched by a seductive drug dealer (Kevin Bacon), he finds himself unable to cope. But when the finger of God blesses his brain (don't ask), D'Arbo decides to fight back under the guise of a DIY superhero called Crimson Bolt. In order to get his wife back, he must first fight his way up the criminal ranks, and he begins by taking a monkey wrench to the foreheads of a couple who cut in line at the movies. As Crimson Bolt begins to make the headlines, a young woman from the local comic book store (Ellen Page) joins in on the fun as his sexually charged sidekick, Boltie.
Let Me In. Dir. Matt Reeves. Starring Chloe Moretz, Kodi Smit-McPhee, Richard Jenkins.
As a string of murders occupy a small New Mexico town in the middle of winter in the mid-eighties, Owen (The Road's Kodi Smit-McPhee) must deal with his own survival in public school. A victim of relentless bullying, the shy and diminutive boy struggles daily to avoid injury and humiliation.
With his mother distracted by the bitter divorce from his father, Owen is neglected until he meets Abby (Kick-Ass's Chloe Moretz), a mysterious girl who just moved in next door. He immediately notices that she is not like other children and soon comes to grips with the fact that that this seemingly innocent girl is a guise for a savage and hungry vampire. On their heels is a policeman (Elias Koteas) who grows suspicious of Abby upon visiting her caretaker (Richard Jenkins) in the hospital after a botched murder-suicide.
Passion Play. Dir. Mitch Glazer. Starring Mickey Rourke, Megan Fox.
This strange and lyrical love story blends old-fashioned romanticism with all the fantasy of a fairy tale. It is also a welcome sight to see Mickey Rourke in a role that bores beneath his shambling gruffness to find a tender core. The slow-burning passion that gradually simmers between him and a darkly vulnerable Megan Fox showcases the talents of both actors with finesse. Finally there is Bill Murray, the counterpoint whose role is to act as a cold shower whenever heat blows between the two star-crossed lovers.
Nate (Rourke), a small-time jazz musician, is clearly a hard-luck case. Caught trying to break into a car, he is taken off into the desert where his assailant puts a gun to his head. Game over? Not quite. Stumbling into a circus pitched amidst the vast expanses of the southwest desert, Nate finds himself drawn to the exotic beauty of Lily (Fox), the Bird Woman. Lily is cold and dismissive; socializing with customers is not her scene. But it dawns on her that this gentle giant may well be her way out of a life of eccentric exposition. Nate is protective and understanding, and to him her aquiline beauty is a magic part of her uniqueness. As their bond deepens, Nate finds that his dreams of bliss are about to be thwarted by Happy Shannon (Murray), a cucumber-cool businessman with deep pockets and an eye for the bizarre.
What's Wrong With Virginia. Dir. Dustin Lance Black. Starring Jennifer Connelly, Ed Harris.
When Dustin Lance Black won his Academy Award® for writing Gus Van Sant's Milk, he noted that he grew up in a conservative Mormon home in San Antonio, Texas. The distance between that world and the sensibility from which he now writes may look vast, but a good storyteller can always bridge opposites. What's Wrong With Virginia marks the directorial debut of this gifted writer, synthesizing small town Christian America with the sexual undercurrents that often lay buried there, all filtered through an acutely cinematic vision.
Jennifer Connelly is Virginia. Delicate and troubled, she has survived in her tourist town, despite hints of mental illness, thanks to her beauty and her wonderfully irrational optimism. An affair with Sheriff Tipton (Ed Harris) has dragged on for years with no resolution, but Virginia lives in hope. She's been willing to indulge both the sheriff's bedroom prayer-sessions and his secret taste for fetish sex, but when he announces his plan to run for the state senate, their affair runs the risk of becoming a political liability.
Your Daily Blend of Entertainment News
Staff Writer at CinemaBlend