First Look At Lindsay Lohan As Porn Star Linda Lovelace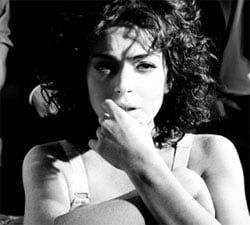 It looks like Lindsay has already started work on her new movie Inferno in which she'll play legendary porn star Linda Lovelace. Photog and friend of Lindsay Tyler Shields debuted the first ever images from the film on his official site which show Lindsay in her best Lovelace look.
Note the creepy guy grabbing his belt in the background of the first poster, the one in which Lindsay appears to be wiping something off her mouth. No subtlety here. Though later in life Lovelace did an about face and became an anti-porn activist, from the posters it seems clear that this movie will be focused more on Deep Throat era Lovelace, when she was heavy into porn and busy getting busy. Check out the images below and click to see them bigger where they originated.
<>
Your Daily Blend of Entertainment News