First Look At Roman Polanski's Carnage And Its All-Star Cast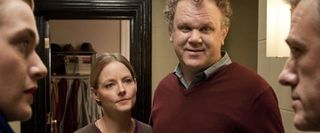 It's hard to even know what to say about Carnage, a film directed by Roman Polanski, based on a Tony Award-winning play and starring Christoph Waltz, Kate Winslet, John C. Reilly and Jodie Foster. All I really need to know is how soon I can see it, and start predicting exactly how many Oscar nominations is might earn. If you want to ramp up your excitement even further, though, Empire Online has the first look at three images from the film-- two behind-the-scenes, and one that looks like a still from the action.
The images aren't exactly like getting your first look at a superhero costume or Hogwarts on fire or anything, but simply seeing all four of these actors is kind of thrilling, no? Carnage, based on the play God of Carnage, is about two sets of parents meeting to discuss a schoolyard dispute between their sons; in the tradition of plays like Who's Afraid of Virginia Woolf? the evening goes downhill from there; as the New York Times review of the 2009 Broadway production put it, it "[takes] three or four smug, upper-middle-class characters and stripping them, with algebraic precision, to their lonely, frightened ids." What better actors to handle it, and what better director to guide them? Given that the film is currently in post-production, I'd make a strong bet on an Oscar-season spot for this movie later in the year.
Check out the three images below, and click them to see the full-size versions at Empire.
Staff Writer at CinemaBlend
Your Daily Blend of Entertainment News
Thank you for signing up to CinemaBlend. You will receive a verification email shortly.
There was a problem. Please refresh the page and try again.