First Pics From The Set Of Burlesque Are Shiny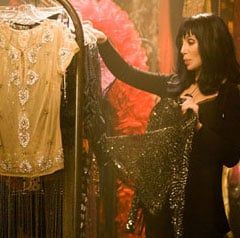 There's a loyal pack of ferocious musical fans that have been waiting almost ten years for something to satisfy the way Moulin Rouge did. Chicago came close with its glitz and glamor, but Steven Antin's Burlesque is promising big things by putting Cher and Christina Aguilera on the same stage together in a virtually endless closet of sparkly clothes.
USA Today (opens in new tab) wrapped their ink-stained hands around the first official photos from the ongoing production and they're bound to get the theater-loving public all riled up. The images show off Xtina on stage belting away in her usual "I'm fucking epic" sort of way sporting a tight fitting, shiny-as-hell gold dress and that trademark mane of blonde hair. Just as exciting for fans will be the images of Cher, coming out of semi-retirement and putting herself on the big screen for the first time since 2003.
Getting Cher to sign up wasn't the easiest part of the show, according to the publication's interview with the director. Antin had to try three times before the legendary singer/actress would sign on, but she was quoted as saying:
The rest of the images over at USA Today (opens in new tab) won't do as much to excite, but they will give you a good idea of the look and feel of the film which for nerds like me is always a bonus.
Here's a quick look at the movie's official synopsis:
Your Daily Blend of Entertainment News