First Tron 3 Trailer May Be On The Tron: Legacy Blu-ray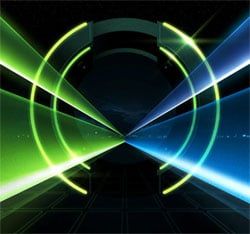 The first teaser for Tron: Legacy debuted to audiences at the San Diego Comic Con before they'd even shot a single frame of the film. Actually at the time, they didn't even have a script, and weren't entirely sure the movie would be greenlit at all. So I suppose it makes sense that the teaser trailer for Tron 3 might show up pretty far in advance of the next film. At best, the next installment won't be here before 2013, but we could see the followup's first trailer this spring.
Tron-Sector claims the first teaser trailer for Tron 3 could debut on the upcoming DVD and Blu-ray release of Tron: Legacy. It's uncertain right now exactly when the film's Blu-ray will show up here in the United States, but it's slated to hit Blu-ray in the UK on April 11th. Included with the Tron: Legacy Blu-ray may also be a copy of the original Tron. Incidentally if this happens, that Blu-ray will be the only way anyone can see the original 1982 movie since Disney has pulled any and all other DVD releases of Tron off of store shelves and has yet to announce any sort of replacement.
So if this rumor pans out, the DVD and Blu-ray release of Tron: Legacy will basically be your only way to see anything Tron-related. It'll contain the original movie, the sequel, and the first teaser trailer for the third Tron film. Disney's definitely hoping to move some serious product.
Your Daily Blend of Entertainment News