Five Restricted Clips From Forgetting Sarah Marshall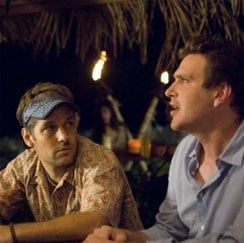 The release of Forgetting Sarah Marshall is only days away, and those of us who were lucky enough to have seen the movie already will finally get to stop being the crazy friend who is constantly telling people to see it. You'll all get to see for yourselves how Jason Segel is America's next sweetheart!
Well, actually, you can see partially what I'm talking about already, thanks to five new R-rated clips available at the official Forgetting Sarah Marshall website. It's one of those deals where you have to provide proof of age before they'll let you in, but it's well worth it. (Incidentally, the site also has the balls to include a live update of its Rotten Tomatoes score, as good a proof as any that it's a solid commercial hit. Right now the rank is at a healthy 87%).
The clips give a lot of focus to some of the supporting players who you don't see much of in the trailer, mostly because they're hard to explain. Paul Rudd shows up as Kunu, a surfing instructor who works at the hotel where Peter (Jason Segel) goes to escape his girlfriend. And Jack McBrayer, who is the scene-stealing Kenneth on 30 Rock, is a newlywed terrified at the idea of having sex with his new wife. Both characters get lots of face time in the last three scenes, all of which take place on the island.
The best thing about the clips though, is a good look at Russell Brand, who plays Sarah Marshall's new boyfriend Aldous Snow, a British rock star. He's already being pegged as the breakout star of the movie, and in just these short clips it's easy to see why. The accent, the ridiculous tattoos and absurd bravado-- you are going to love this man. Britain's next sweetheart?
Your Daily Blend of Entertainment News
Staff Writer at CinemaBlend