Footloose Soundtrack Battle: Which One Will Make You Cut Loose?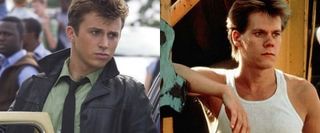 Every decade has a soundtrack or two it can call its own. The music of The Graduate empowered the Flower Children of the 1960s. Grease and Saturday Night Fever were staples of the 1970s. If I had to explain the 1980s to anyone, I'd simply pop in either the Dirty Dancing or Footloose soundtracks. And if you listened to music in the 1990s, you likely owned Quentin Tarantino's Pulp Fiction CD.
But Footloose, and its signature songs, are making a comeback in the Aughts thanks to Craig Brewer's in-tune remake. As with Herbert Ross's original, the tunes are integrated into the fiber of Brewer's film, from the opening beats of Kenny Loggins' title track to … well, Blake Shelton's barn-burning cover of the same tune that closes out the film. In between, Brewer introduced new versions of Footloose classics, asking Ella Mae Bowen, Hunter Hayes and other contemporary artists to take a pass on tracks we wore out as kids. Is it Almost Paradise, or will we be holding out for a hero to rescue us from these remixed tunes? Let's break down the songs that appear in both films and see which version better encourages you to kick off your Sunday shoes.
Holding Out for a Hero
By far the best track on the new Footloose soundtrack, made all the more special for the subtly sweet way Brewer uses it as the backdrop for a simple scene with Ren (Kenny Wormald) working in his garage. The song's lyrics suggest that Ren will be Ariel's savior without cramming the message down our throats in a stagey tractor race. And country artist Brown's soulful rendition nails the hurt that can be found at the heart of this emotional song. Brewer has said on his active Twitter feed that Ella Mae Bowen's only 15, which is mind blowing when you hear decades of pain, hope and life experience in her rendition of Hero. I can't wait to hear more by her in coming years.
Advantage: Footloose (2011)
Almost Paradise
Victoria Justice and Hunter Hayes' updated take on this classic '80s ballad just doesn't reach for the rafters the way Mike Reno and Ann Wilson did in 1984. Granted, the 1980s are the decade of power ballads, and Wilson has one of the strongest voices in rock-pop history. But the wafting synthesizers and building choruses of the original Almost Paradise trump the tinny drum machines and subdued verses of the new mix. Turn up your speakers for the original. It's like a time machine transporting you right back to your high school prom.
Advantage: Footloose (1984)
Let's Hear It For the Boy
This could be sacrilege, but I'm going to say Jana Kramer's boot-stompin' rendition of the buoyant Boy works better than Deniece Williams' dance classic. And most of this has to do with the country-twang touches in Kramer's take that fall in step with Brewer's Southern Footloose spin. It's easy to get excited when Willard unleashes his inner dancing demon. But Kramer's rambunctious interpretation of this rousing cheer-track practically forces you out of your seat, singing off-key with this loving one-man show.
Advantage: Footloose (2011)
Footloose
The title track, and arguably Kenny Loggins' greatest hit. And yet, Blake Shelton does the song justice, with his sing-along choruses that could hold their own in a Southern Gospel choir. Much like Brewer's remake, Shelton's version of Footloose keeps all of the elements you like about the original but somehow finds a way to make it fresh and new. Basically, Footloose is such a well-written anthem that it's damn near impossible to screw it up. No matter the version, Footloose will have you burning, yearning for a dance floor so you can cut loose.
Advantage: A tie.
In Conclusion
You can't go wrong with either soundtrack. But the sheer surprise of our experiment lies in the fact that the handpicked tunes for Brewer's soundtrack – as well as Brewer's remake, itself – live up to (or even improve on) the standards set back in 1984. Stop fighting it, Footloose fans. Embrace a remake that actually improves on its original, and gives us a fresh set of musical reasons to cut loose.
Sean O'Connell is a journalist and CinemaBlend's Managing Editor. He's frequently found on Twitter at @Sean_OConnell. ReelBlend cohost. A movie junkie who's Infatuated with comic-book films. Helped get the Snyder Cut released, then wrote a book about it.
Your Daily Blend of Entertainment News
Thank you for signing up to CinemaBlend. You will receive a verification email shortly.
There was a problem. Please refresh the page and try again.