The Force Awakens Just Got Ripped Apart By A Brutal Honest Trailer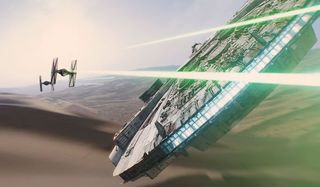 Even before Star Wars: The Force Awakens hit theaters last December, the movie found itself being treated to an "Honest Trailer" based solely on one of its previews. Well, it's been fourth months since the seventh Star Wars installment's release, and now that it's available on home media, the movie itself is finally getting the full "Honest Trailer" treatment since everyone who hasn't been living under a rock has seen it. Take a look!
Right away, the Screen Junkies folks waste no time explaining how Star Wars: The Force Awakens (directed by J.J. Abrams, a.k.a. "diet Spielberg") had a lot of expectations riding on it, from critical reception to earning enough money back to show Disney made a wise decision buying Lucasfilm. While the movie earned a lot of positive reviews and certainly hauled in the big bucks, a lot of the video focuses on how similar it is to the original Star Wars movies. To drive that point further, they bring in the original "Honest Trailers" narrator to clash with the current narrator over the blockbuster's merits.
From Starkiller Base being a Death Star retread to much of Rey's background matching Luke Skywalker's in A New Hope, the video makes note of a of elements that Star Wars: The Force Awakens borrowed from the Original Trilogy. On top of that, they also took issue with things like Captain Phasma being underused and R2-D2 randomly waking up for no reason. Fortunately, the narrators were also able to agree on some of their favorite and hated parts in the movie, leading to them having their own Stepbrothers moment. ("Did we just becomes best friends?" "Yep!"). To summarize, their take isn't that it was a bad movie, just not as original as it could have been.
While the majority of moviegoers obviously enjoyed Star Wars: The Force Awakens, there was definitely a lot of moments that harkened back to events from 30 years back in a galaxy far, far away. Since The Force Awakens kicked off the new trilogy and essentially "reawakened" the franchise after years of no movies, ideally Episode VIII and Episode IX will take the franchise in new directions so they can have their own unique moments rather than just lean on the past. Plus, there are also the spinoff movies coming in between the trilogy releases, like Rogue One in December. Although these "Anthology" entries are all prequels so far, they're separated from the main story in the sequel trilogy, allowing them to tell self-contained stories and give fans a fix while the main movies are in production.
Star Wars: The Force Awakens is now available on Blu-ray/DVD and digital purchase, and we'll see the sequel continue when Star Wars: Episode VIII is released on December 17, 2017.
Connoisseur of Marvel, DC, Star Wars, John Wick, MonsterVerse and Doctor Who lore. He's aware he looks like Harry Potter and Clark Kent.
Your Daily Blend of Entertainment News
Thank you for signing up to CinemaBlend. You will receive a verification email shortly.
There was a problem. Please refresh the page and try again.