Force Majeure Will Trigger A Thousand Uncomfortable Conversations Between Couples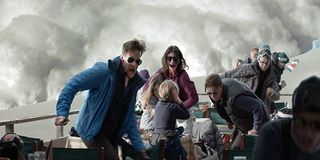 In a time of crisis, do you stay or do you run? In an emergency, does your spouse – the person you entrust with your life, and the lives of your children – engage in fight, or flight?
That's the massive question raised after a relatively minor incident in Ruben Ostlund's frigid (on every level) Force Majeure. The chilly Swedish drama cast its spell on the Toronto International Film Festival after charming Cannes Film Festival judges, where the gut-wrenching conversation starter took home this year's Un Certain Regard Jury Prize. Set in a posh ski resort in the French Alps, Force Majeure catches up with a Swedish family getting away from the daily grind for a few days. By the time it's over, they'll all wish the father, Tomas (Johannes Bah Kuhnke), had opted to stay home.
The conflict arises on Day Two of the vacation. While eating lunch in the resort's outdoor restaurant, Tomas points out a "controlled avalanche" taking place on the side of the picturesque mountain. His wife, Ebba (Lisa Loven Kongsli), is concerned for the safety of their children, Harry (Vincent Wettergren) and Vera (Clara Wttergren), but she trusts Tomas when he says the avalanche won't reach them. Except it does, plunging the patio into white nothingness as patrons scream in panic. Ebba grabs the children. She yells out for Tomas. Only Tomas has grabbed his gloves and cell phone, and ran for individual safety, never once considering his family in the heat of panic.
And just like that, a divide as thick as a brick wall has been dropped between the members of this once-picturesque family. Ebba can't believe that the man she thought she knew would abandon his family. The children sense immediate tension between their parents, and Harry tearfully confesses that he fears his mom and dad will divorce. Tomas claims that he doesn't remember the events of the avalanche taking place the way Ebba describes them, but does it matter how he remembers it? What matters now is how he is perceived. Because when a person's character is questioned, that doubt and uncertainty can spread like a cancer.
Force Majeure is its own form of "controlled avalanche." Once Tomas' self-serving betrayal is recorded, writer-director Ruben Ostlund takes all the time in the world analyzing the repercussions from the perspective of each family member. They try to continue enjoying their vacation, but Ebba can't hide the fear that once they go home, she'll be living with a coward. When friends come to visit them at the chalet, Ebba can barely keep the story contained, if only because she needs to analyze it with new people, to get their human perspective on Tomas' unusual reaction. To no one's surprise, the new couple even begin to argue about it when they are out of earshot of Ebba and Tomas. The dubious cancer continues to spread.
I can see couples coming out of Force Majeure and discussing how they think friends and family would react if they were in Ebba and Tomas' shoes. If they are feeling particularly brave, they might discuss how each other would react, and how they'd behave if their spouse made the "wrong" decision. Just be careful. If you answer improperly in subsequent conversations, the chill of Force Majeure might follow you home, and force you to sleep alone on the couch.
Sean O'Connell is a journalist and CinemaBlend's Managing Editor. He's frequently found on Twitter at @Sean_OConnell. ReelBlend cohost. A movie junkie who's Infatuated with comic-book films. Helped get the Snyder Cut released, then wrote a book about it.
Your Daily Blend of Entertainment News
Thank you for signing up to CinemaBlend. You will receive a verification email shortly.
There was a problem. Please refresh the page and try again.