Four Awesome Retro Posters For Wall-E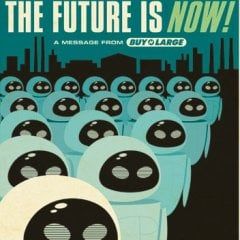 As if their vibrant characters and storytelling skills weren't enough to make them the leader in animation, Pixar is also known for its impeccable attention to graphic design. Of course there's the animation itself, but when it comes to marketing a movie, the quality of poster design can matter almost as much as the quality of the movie itself. And with these new, retro posters for Wall-E, Pixar is proving once again that, when creating something pleasing to the eye, they're tops.
The posters, available to purchase from
[[ ahref http www.acmearchivesdirect.com ]] Acme Direct (doesn't that sound like a business that Wile E. Coyote would frequent?), are 50s-esque fake advertisements for the characters and locations seen in the movie. There's an ad for Wall-E's buddy, M-O, calling him "The Future of Sanitation Robotics!" Then there's a whole fleet of EVEs, Wall-E's supposed love interest in the movie and called in the poster "Research Robotics Technology That Blasts Light Years Ahead!" There's an ad for Axiom, which appears to be the ship where Wall-E and EVE rendezvous in the movie, and finally another ad for Wall-E himself, showing off those big puppydog eyes.
In a word—awesome. I'm a geek for movie posters as it is, but posters this gorgeous are almost guaranteed to find a place on my wall at some point. Wall-E is one of the few summer movies that I'm completely excited about, without reservations, and these posters are just more proof that the people behind it know exactly what they're doing. Marketing a kid's movie with some class? It's an impossible feat only Pixar can achieve. Check out the posters in the gallery below, or visit Acme Direct for full-size versions, and to order them for your very own!
Staff Writer at CinemaBlend
Your Daily Blend of Entertainment News
Thank you for signing up to CinemaBlend. You will receive a verification email shortly.
There was a problem. Please refresh the page and try again.