Four Minute Clip From The International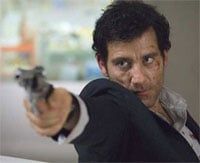 We have four minutes from The International that make the film look a lot like a fancy version of Shoot 'Em Up. The scene takes place in the Guggenheim, with Clive Owen and Jack McGee. The action of the clip does not really get started until a little over two minutes in, so hang in there… it's worth it.
It is a little bit strange to watch since it takes place after the pulse-pounding plot is already underway. The actors are pursing their lips with intensity and you don't have any idea why. It looks a little silly, that is until the action starts, then you realize what all the fuss is about. Still it's a particularly well shot scene; the Guggenheim is a beautiful backdrop for this bloodbath.
And, in case you missed it, check out a preview of the film here.
Your Daily Blend of Entertainment News