Frozen Wins Best Animated Feature At The Oscars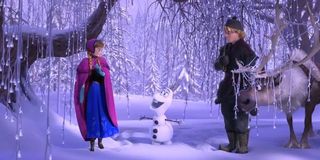 The Best Animated Feature category was a tight race, but ultimately Frozen was the winner at this year's 86th Annual Academy Awards. The billion dollar Disney hit, which is still playing in theaters nationwide, has wound up a champion, with the Academy honoring directors Chris Buck and Jennifer Lee with a little gold statuette.
There was a vocal contingent hoping for Hayao Miyazaki's The Wind Rises to take the top prize. Being the final film of animation titan Miyazaki was not enough to sway voters from the Disney juggernaut, even as it currently plays in theaters in a heavily-supervised dubbed edition.
For those who have not seen the film, it follows a princess who must trek into the wilderness to find her sister, only to discover the icy super-powered truth behind her disappearance. The film is also nominated in the Best Original Song category, and has already become Disney's highest-grossing non-Pixar animated film. Co-director Buck was previously nominated for 2008's Surf's Up, while Lee had previously co-written nominee Wreck-It Ralph.
The other nominees included The Croods, Ernest And Celestine and Despicable Me 2, the last one which stole the show with an early musical performance by Pharrell singing the hit Happy. The Croods and Despicable Me 2 can take solace in the massive box office receipts. Ernest And Celestine has an English dub that's currently playing in theaters - most likely arthouses - but it's well worth the effort to seek it out, as it's the first animated film to win the Magritte Award, which recognizes excellence in Belgium cinema.
Frozen adds this award to an impressive trophy case, having previously won the Best Animated Film at the Annie Awards, the Golden Globes, the BAFTA's, the Broadcast Film Critics Association, and dozens of regional awards as well. It's also an expected frontrunner for Best Original Song for Let It Go, which you can hear among a trailer and another clip below.
Your Daily Blend of Entertainment News
Thank you for signing up to CinemaBlend. You will receive a verification email shortly.
There was a problem. Please refresh the page and try again.