Full Glow-In-The-Dark Daft Punk Tron: Legacy Poster Revealed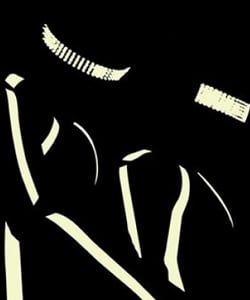 The French electro-house band Daft Punk has a style that fits perfectly with the setting of Tron, but for a while after we learned they would be providing the soundtrack for Tron: Legacy, it wasn't clear if the helmeted duo would actually appear in the film. A cameo was announced over a year ago, but only in the last few weeks, as Disney releases a series of Daft Punk-centric Tron: Legacy posters, have we gotten a sense they might have much more than a cameo. Last week's Tron Tuesday offering was an image featuring the two, and now a new poster appearing at TronSoundtrack.com--as a pre-order bonus for buying the hard copy of the soundtrack--show's them off even more. It's the same Glow-in-the-dark Daft Punk poster we saw a couple weeks ago, but this time we get to see the band, and not just their glowy parts.
The site loops a little snippet of soundtrack for you to enjoy while shopping around so head that way for the full experience, or just scope out the poster below. Tron: Legacy hits theaters December 17th.
Your Daily Blend of Entertainment News