Furiosa In The Mad Max: Fury Road Sequels? Here's What We Know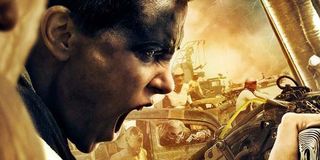 We could go on and on about Charlize Theron's scene-stealing — actually, entire-movie-stealing — role as Furiosa in Mad Max: Fury Road. But, sadly, here is not the place for that, because doing so would make the following update on the next Mad Max sequel too painful to bear. George Miller, the Fury Road director, is returning for another sequel following the film's insane success. But someone who won't be returning is — deep breaths — Furiosa.
During an interview with Digital Spy, Miller was asked about Theron's potential to return for the upcoming sequel, the working title of which is The Wasteland. Miller replied,
It's okay. Take a moment to process this, though it does reiterate what we expected. Back in August, an interview with Theron was published on USA Today, in which the actress said she had no idea about a Fury Road sequel or that it was even rumored to be called The Wasteland.
Despite the title of the film, Mad Max: Fury Road was very much about Charlize Theron's bionic-armed character, as she fights to smuggle the sexually abused wives of Immortan Joe to a safe haven. The film was a massive success for the studio for a number of reasons, including the powerful and well-rounded rendering of her character.
The news that she doesn't factor into the sequel is even more sad when you think about Miller's original idea for Fury Road, which was to film this and a film called Mad Max: Furiosa back to back. That ended up not being the case, and it seems the two were combined for the year's summer hit. Miller told Top Gear recently that he was talking now with the studio about the direction of the sequel, and if he's to be believed, there are two more sequels in the early stages of development. It's just a matter of which script he'll agree to work on next, and when. Fury Road was a long shoot over the course of eight months, which isn't exactly an attractive time commitment.
Mad Max: Fury Road featured Tom Hardy succeeding Mel Gibson as Max, Nicholas Hoult, Zoe Kravitz, Rosie Huntington-Whiteley, and Riley Keough. Spoiler warning for the film, but after a race through the desert wasteland of this post-apocalyptic world, Max, Furiosa, and their troupe made their way back to the fortress of the Immortan Joe, the tyrant ruling their civilization. They ended up seizing it for themselves, killing Joe, and showering the impoverished citizens with the water they so desperately needed. It'll be interesting to see if it'll factor into the coming awards season, but in the meantime, we'll keep an eye out for more info on where George Miller will take this franchise.
Your Daily Blend of Entertainment News
Thank you for signing up to CinemaBlend. You will receive a verification email shortly.
There was a problem. Please refresh the page and try again.