Man Of Steel 2 For George Miller? Here's What He Just Said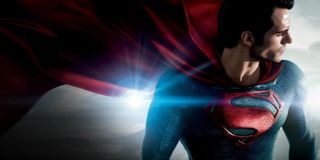 A couple of weeks back rumors started to swirl that George Miller was going to direct Man Of Steel 2, and the internet, like an impetuous child staring at the presents underneath the tree on Christmas Eve, immediately started wailing and screaming for it to happen. Unfortunately, I have some bad news for those of you that had already started to picture Superman tied to the front of a speeding lorry with a mask on his face: George Miller isn't going to direct Man Of Steel 2.
The Australian director made this heart-breaking admission during his recent chat with Digital Spy, where he said:
What makes this news really hard to swallow was George Miller's revelation that he's actually held talks with Warner Bros. about overseeing a DC movie. Miller admitted in the interview that, after his tireless work on Mad Max: Fury Road, which he has been working on for close to two decades, he hopes his next film is very small with no special effects and not many stunts. This then led to a question regarding the Man Of Steel 2 rumors, to which he gave that response.
Never say never though, because George Miller then went on to immediately explain how his proposed Justice League movie, which he'd planned to make back in 2009, fell apart, but refused to blame anyone at Warner Bros., instead saying it was due to the Australian government's failure to provide rebates for the film, while the writer's striker also confused matters. That suggests that there's nothing but good vibes between Miller and Warner Bros., who also funded Mad Max: Fury Road and have a reputation for being very loyal to directors and writers once they've released a film together.
Meanwhile, George Miller also then admitted that he's always been interested in the superhero genre, particularly because the mythology behind the characters and their worlds is so similar to age-old Greek and Roman pieces of work. Miller, who admitted that growing up he was always a DC man, also took the time to praise Zack Snyder's work within the DC world so far, even going as far as to say, "I love his work."
There will be many people that disagree with George Miller in that point of view, as Man Of Steel director Zack Snyder has proved to be somewhat of a divisive figure as a filmmaker. But, what we can all agree on is the fact that Miller didn't answer the question of whether he is directing Man Of Steel 2 with a resounding, 'Yes!!' means that today is just another regular day, rather than one where you immediately began counting down until the sequel's release.
We're still not too sure when Man Of Steel 2 is going to be released. And with George Miller seemingly not on-board, I'm not so sure we really care to learn. Do you?
Your Daily Blend of Entertainment News
Thank you for signing up to CinemaBlend. You will receive a verification email shortly.
There was a problem. Please refresh the page and try again.