The Future Of Hunger Games: Why Francis Lawrence Is As Crucial As Jennifer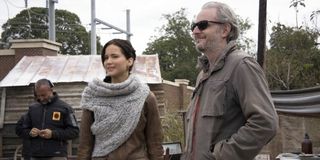 Which Lawrence was a better hire for Team Hunger Games?
There's no question Oscar winner Jennifer Lawrence is a tremendous asset to Lionsgate's ongoing adaptation of Suzanne Collins' best-selling YA novels. The versatile actress brings necessary emotional weight and pathos to the part of Katniss Everdeen, a freedom fighter tossed into the middle of a war she never sought to enter, forced to sacrifice family and friendship in order to spark a revolution. So much of Collins' story is conveyed through Everdeen's internal monlogues. Lawrence, the actress, finds ways to externally communicate her character's conflicts, elevating Catching Fire above the standard, hollow, effects-driven blockbuster.
I would argue, however, that the hire of Catching Fire director Francis Lawrence can not be overlooked as we begin to measure the success of the Hunger Games film franchise. He might not attract as many eyeballs as the pop-culture-savvy J-Law, who's entrenched – at the moment – as the media's darling. But his contributions behind-the-scenes are ensuring that those "eyeballs" are satisfied with what they are seeing … and will continue to be satisfied as the series progresses.
Francis Lawrence has been hired on to direct the two-part adaptation of Collins' Mockingjay. Parts three and four of the Hunger Games series will arrive in theaters in 2014 and '15. And thanks to the director being retained, Catching Fire gives us a solid idea of what we can expect.
That confidence was missing from the early stages of some subsequent adaptations, movie franchises that blazed the trail The Hunger Games currently follows. Harry Potter, for example, burned through three different directors before producers handed the keys to David Yates, allowing the final four films in the series to achieve a unified vision. (The fact that Mike Newell helmed only one film in the Potter universe dooms The Goblet of Fire as the least memorable chapter in the saga, the one that lacks identity, flavor and a signature voice.)
A similar problem plagued the adaptations of the Twilight saga. I hear you. The movies had bigger issues … namely, the fact that they were being adapted from Stephenie Meyer's syrupy prose. But the story haphazardly transitioned in tone through opposing filmmakers for the first three film adaptations as they all tried to get to what they believed was the heart of Meyer's narrative. Catherine Hardwicke wanted teen angst. David Slade sought aggressive teen horror. It wasn't until Bill Condon scraped the cheese off the surface and revealed the true camp nature of the series that Twilight finally flourished in Breaking Dawn. But by then, it was too late to fully redeem the series as something worth remembering.
The Hunger Games won't have that issue. Handing the baton to one filmmaker and allowing them to complete their vision is a wise decision, one that should ensure that the Mockingjay movies expand on the commendable work Lawrence does in Catching Fire. In theory, the director will continue to establish valuable relationships with his actors and production team, which can only help as they continue to work through rigorous schedules on Mockingjay. Keeping the same "captain," so to speak, at the helm of a developing franchise usually means fewer obstacles, squabbles and delays behind the scenes.
More important, hiring and retaining Francis Lawrence means that the quality ON screen will remain … which should be of more interest to the fans of Collins' world. The director brought, I thought, fully realized versions of The Capitol and the Arena to life in Catching Fire. We're going to want to see what unique environments like Districts 13 and 8 look like in Mockingjay, and having Lawrence on board – after seeing what he was able to accomplish in Fire -- gives The Hunger Games a stability I don't think can be undervalued.
There's something to be said about seeing familiar material translated through different voices. Would I want to see how another filmmaker interprets Katniss Everdeen's journey? Of course. That creative variation can be exciting. But from a studio's standpoint – i.e., a financial standpoint – that's a risk that's rarely worth taking. For that reason, I'd argue that Francis Lawrence is the more-valuable Lawrence in the Hunger Games franchise … though without Jennifer in his corner, we likely wouldn't be writing about this franchise at all.
Your Daily Blend of Entertainment News
Sean O'Connell is a journalist and CinemaBlend's Managing Editor. He's frequently found on Twitter at @Sean_OConnell. ReelBlend cohost. A movie junkie who's Infatuated with comic-book films. Helped get the Snyder Cut released, then wrote a book about it.