G.I. Joe Retaliation: 5 Things To Know Before Seeing The Sequel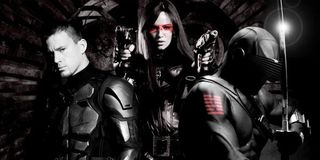 Even those who sort of enjoyed Stephen Sommers' campy G.I. Joe: The Rise of Cobra back in 2009 have to admit that the director left a lot of metaphorical "chips" on the table. There's still a lot of value associated with Hasbro's classic line of military-themed toys, and Hollywood's taking a second, more serious stab at mining cinematic gold from the Joe franchise with the new sequel, G.I. Joe: Retaliation.
Does that mean you are going to have to dust off (or hunt down) a DVD copy of Sommers' surprise hit to refresh your memory prior to Retaliation? Nope. We're saving you some time and effort by running through five important facts you need to know about the first G.I. Joe movie. They'll help you better appreciate the storyline mapped out in Jon M. Chu's sequel. Because as the Joe members say, "Knowing is half the battle!"
1. Duke (Channing Tatum) originally wasn't a Joe
We meet Tatum's tactical hero, Duke, in the opening scenes of the original movie, where he's accompanying NATO forces on a mission to deliver warheads loaded with nanomites, destructive little buggers created by biotech weapons developer James McCullen (Christopher Eccleston). The Joe forces only allow Duke to accompany them on their mission because he's intimately familiar with The Baroness (Sienna Miller), a beautiful terrorist who tried to steal the warheads from NATO. Oh, and she and Duke once were engaged. But don't get too attached to the original characters, because …
2. Duke and Snake Eyes are the only Joes who return for the sequel
Sequels generally increase the ensemble size, but they do so by adding new faces to the franchise's original cast. With Retaliation, Bruce WIllis, Dwayne "The Rock" Johnson, Adrianne Palicki and D.J. Cotrona join the series, but are only accompanied by Tatum and Ray Park, hiding behind Snake Eyes' mask. No Sienna Miller. No Marlon Wayans. No Rachel Nichols, and no Dennis Quaid. The point, I believe, is that the G.I. Joe squad has hundreds of potential heroes who can be plugged into assorted adventures, and we don't have to rely on the same characters each time. It's why Johnson's character, Roadblock, arrives in the sequel with virtually no introduction, and Snake starts this movie on the other side of the planet, fighting in a separate adventure. Speaking of the silent ninja ...
3. Snake Eyes and Storm Shadow have been rivals since childhood
We're told through flashback that the chief ninjas in Rise of Cobra – Snake Eyes and Storm Shadow – were trained as children under the same master. But Storm Shadow was banned from the dojo when the master was killed, and he was blamed. Now Snake Eyes fights for the Joes, and often goes head-to-head-to-foot-to-fist with his disgraced "brother." This relationship takes a wicked turn in Retaliation, so it's important to know Snake and Storm's checkered past, because everything you thought you knew is about to change. Coincidentally, changing identities is our next point …
4. Filling out your G.I. Joe scorecard
By the end of Rise of Cobra, Rex – who was the "Doctor" – assumes his new identity as Cobra Commander. McCullen, the wicked brainchild behind the nanotechnology that gives the Joes fits, becomes Destro – Cobra Commander's second in command. Yet when both villains attempt to escape at picture's end, they are captured by the Joes and detained in futuristic prison cells (which is where we find them at the start of Retaliation). However, all is not perfect in the Joes' world. Cobra Commander and Destro had one last ace up their collective sleeves …
5. The President is not our President
Using the nanotechnology, Cobra chameleon Zartan (Arnold Vosloo) successfully changes his facial features to resemble the U.S. President (Jonathan Pryce). Rise of Cobra ended with Zartan, disguised as our country's Commander In Chief, putting his feet up on a desk in the Oval Office … and it's basically from there where Retaliation picks up.
So now you're caught up! G.I. Joe: Retaliation hits theaters in 2D, 3D and #D IMAX on Thursday, March 28.
Sean O'Connell is a journalist and CinemaBlend's Managing Editor. He's frequently found on Twitter at @Sean_OConnell. ReelBlend cohost. A movie junkie who's Infatuated with comic-book films. Helped get the Snyder Cut released, then wrote a book about it.
Your Daily Blend of Entertainment News
Thank you for signing up to CinemaBlend. You will receive a verification email shortly.
There was a problem. Please refresh the page and try again.